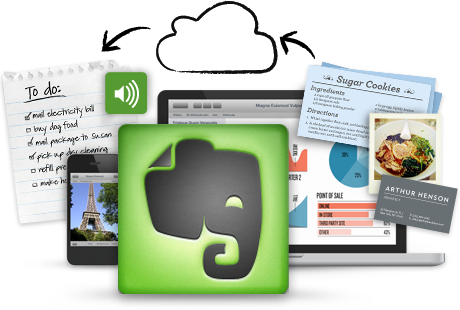 Evernote is one of those Marmite products that people either love or hate (or rather, they love it or 'they don't really get it'). I was firmly in camp two until someone told me that you had to jump in with both feet and use it for everything.
Ever since then, I've been using it to save web snippets, recipes, tweets and articles, and creating To Do lists, daily planners, blog posts and ebook drafts. It's also excellent for annotating, and I can highlight areas of an ebook to look at later and it will pop it up the top as a summary. Which gives me the illusion of being slightly closer to being an organised grown up.
While jumping in with both feet does help, I also think embracing all of the apps, widgets and hacks helps too. Here are five ways to enhance your Evernote usage.
Add the Evernote Clipper to your browser. It's the easiest way to save content to your account, and has all of the options to correctly categorise your notes.
Download the EverClip app on your phone. When you copy a link in any other app then open EverClip, it creates a note and imports the information from the link. Very handy for clipping on the go. It's £1.99, but I use it every day so it's well worth it.  If you haven't already, make sure the Evernote app is on all your devices too.
Use the Evernote email. Evernote will give you a specific email to send links to, which will then save to your account. I use this on my iPhone as a quick way to bookmark something to deal with later.
Create templates. One of the best ways to make your Evernote experience easier is to create templates you can use regularly. Have a look at my Weekly Planner template as an example.
Tag, tag and tag. Tag all of your posts. Notebooks are great, but having tags can really help you drill down. For example, I have a Health folder for any diet, health or exercise info, but I also use the tags #Gluten Free and #Gluten Free Savoury to find something more specific
How do you boost your Evernote?