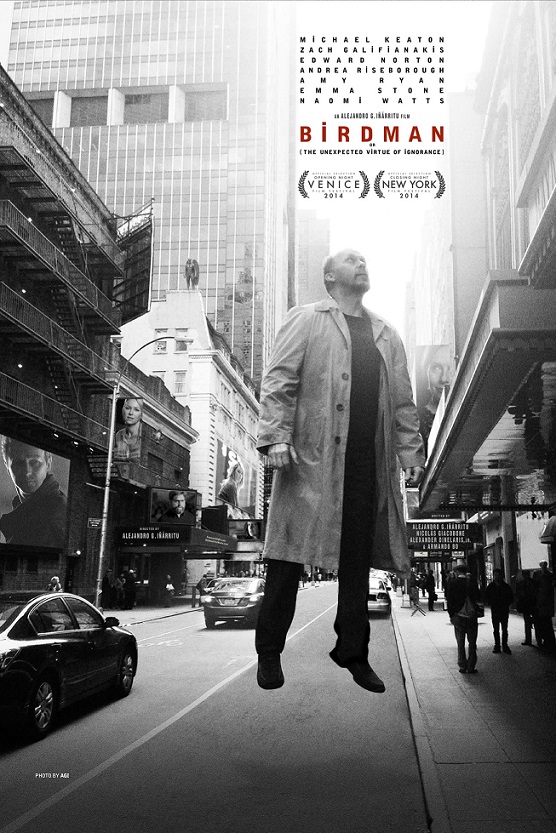 Former Batman star, Michael Keaton, stages a heck of a comeback in the most meta way possible: by playing an actor best known for playing the lead in a superhero franchise staging a comeback. It comes to UK cinemas on the back of critical praise and awards buzz for pretty much everyone involved, so is Alejandro González Iñárritu's BiRDMAN or (The Unexpected Virtue of Ignorance) a soaring hit or a crashing miss?
BiRDMAN or (The Unexpeccted Virtue of Ignorance/Birdman
Directed by: Alejandro González Iñárritu (Babel, 21 Grams, Biutiful,…)
Starring: Michael Keaton, Zach Galifianakis, Edward Norton, Andrea Riseborough, Emma Stone, Amy Ryan, Naomi Watts, …
Run time: 119 minutes
Rated: 15
Out now
The story
Over two decades after leaving the lucrative Birdman film franchise, former Birdman Riggan Thomson (Michael Keaton) is a washed up, troubled shadow of himself, trying his best to put together a stage version of Raymond Carver's What We Talk About When We Talk About Love.
Riggan, quite literally haunted by the voice of his cinematic alter-ego, is struggling to keep both his personal and professional life together – trying to mend the bond between him and his daughter Sam (Emma Stone), recovering from addiction and scrambling to keep his own marbles together. And the last-minute casting of world's most intense method actor (Edward Norton), a theatre critic on the warpath and Riggan's own wariness of social media only add to the pile of problems.
Not to mention the looming, avian-beaked shadow of Riggan's past…
So… good film?
Let's make one thing very, very clear: this is a film that requires you to pay attention. Fully. Because you may think you know what you're getting, and it genuinely isn't that. From the moment you're introduced to Riggan (after a couple of frames that will, I promise, make sense by the end of the film) you are forced to question what's real and what's not – and considering you're introduced to Riggan while he's mediating in his dressing room, in his pants, levitating (!) you will definitely be asking some questions.
What you won't be questioning is how mind-blowingly brilliant Michael Keaton is. In a film full of biting showbiz satire, Keaton's performance goes to deep and uncomfortable places – much like Riggan's performance, actually. Far more than just convincing, Keaton grabs you by the scruff of the neck and does not let you go. Unless it is to hand you over to the other actors, who do pretty much the same. The cast is spot on, with Edward Norton's freakishly intense Mike Shiner particularly doing his best to make you go "WHAT THE" throughout.
As I mentioned, you will be questioning everything throughout. Riggan's mental state is the overarching question: is he really levitating? Can he really perform acts of telekinesis? Or is it all in his head, like Birdman himself? And what do these little powers mean to him? What does his history mean to him? It's a gorgeous example of a character study, filmed in a way that flows as the camera brings you in and around the theatre in what seems like one fluent and continuous take (much like Alfred Hitchcock's Rope, which had a total of 10 cuts in its 80 minute run time). It makes for very immersive, and at some times claustrophobic viewing.
Birdman is not an easy film. It's not a film you'd want to watch if you're tired or not up for spending two hours intensely concentrating and it's not a film you can watch just the once to fully grasp what you're seeing. But Birdman is a good film, and definitely worth revisiting several times, for the purpose of letting it all sink in.
And if you went to see it on New Year's Day (like I foolishly suggested in my preview of the film) with little amounts of sleep and maybe a bit of a hangover, I do apologize for suggesting it and urge you to go and see it again. You may love it, you may hate it, but it will make you feel something. And it will make you think. Lots.
Birdman trailer
More film reviews in the Dork Adore film section