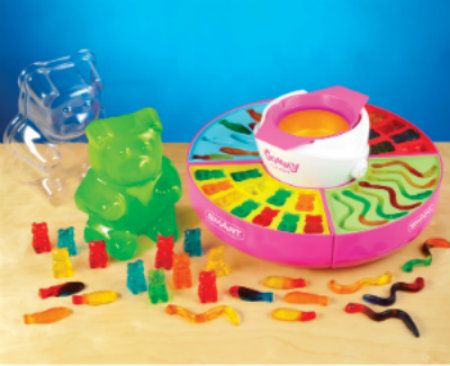 It's like someone has reached into my dreams and pulled this out. The Gummy Candy Teddy Maker is indeed very real, and allows you to make your own gummy candy in the comfort of your own kitchen. If you're a lover of gummy bears, gummy worms or gummy candy in general, then I personally think you should get yourself one.
Or, you know, three.
Sweets for my sweet
The Gummy Candy Teddy Maker is kind of like a dream come true for anyone who's ever wanted to try their hand at making their own sweets. You can get the kids involved as its safe, easy and you get to decide the ingredients that go in your sweets.
The machine has three kinds of gummy moulds: two gummy bear moulds, one gummy worm mould and one gummy fish mould. You also get two gelatine pots to get you started, so you can make the candy in different flavours.
Suitable for vegetarians
The machine also gets major brownie points from me for being vegetarian-friendly. Considering the mould is subject to what kind of ingredients you put in there, you can easily substitute regular gelatine for a vegetarian substitute.
Plus, the machine comes with a couple of recipes to get you started making healthy alternatives to the sugary gummy candy out in the shops. And your lot is entirely made of silicon, and easy to disassemble, so it shouldn't be a problem to clean quickly.
How's that for awesome? The ideal birthday present, I'd imagine. Or if you want, you can get one and use it as an attraction at your kid's birthday party – how many children will be able to resist making their own candy?
Features
·         Easy to use, easy to clean
·         Two pots for various flavours
·         Suitable for vegetarians with use of own ingredients
·         Easy and safe heating
·         Suitable for kids and adults alike
·         Choice of healthy recipes
Dimensions
27.3 x 15.8 x 24 cm
Sounds sweet! Where can I get one?
Aha, I see what you did there. The Gummy Candy Teddy Maker is available online, from Prezzybox, at £34.95. And yes, the giant teddy mould comes with it as well!