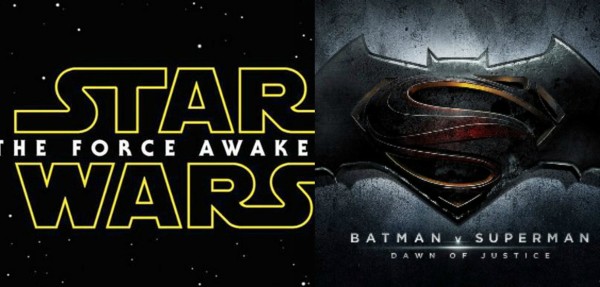 The past week was positively Christmas for us film dorks: two of the biggest upcoming blockbusters have released shiny new trailers, for us to watch, scrutinize and (hopefully) get us excited about the finished product. In one corner, we've got the trailer which stopped the entire internet in its tracks for a good two minutes: Star Wars: The Force Awakens, complete with a tantalizing voice-over, heroics from the new central threesome (John Boyega's Finn, Daisy Ridley's Rey and Oscar Isaac's Poe) and, to top it all off, a moment that completely overloaded the world with a bad case of the feels – our first look at the returning Han Solo and Chewie.
In the other corner, we've got a first look at DC's opening salvo in its Justice League masterplan: Batman V. Superman: Dawn of Justice. If you like your Batman to be broody and moody (and, judging from his little conversation with Supes at the end, more than a bit pissed off), Ben Affleck has you covered.
Shall we take a closer look? Ah, go on, then.
Star Wars: The Force Awakens
The first teaser gave us the bare bones – 88 seconds of tiny moments, introducing us to our central three (Finn, Rey and Poe) with little fuss. The absent Lucasfilm logo was a nice touch – it didn't need it for you to know that this was Star Wars, returning.
The logo does make a return at the start of the second teaser, as does the Booming Voiceover, this time quite possibly provided by Mr. Luke Skywalker himself, Mark Hamill ("The Force is strong in my family…"). There are a couple of stunning shots (am I the only one who squeed at the THIS CHRISTMAS bit?) incorporating everything you can possibly love about Star Wars: Oscar Isaac's character in full pilot mode, Daisy Ridley and John Boyega doing some kick-ass fighting, lightsabre action, Stormtroopers and a very brief but poignant moment in which we get a glimpse of a robotic hand holding what was once Darth Vader's mask (complete with a Darth Vader breath on the soundtrack).
And then, J.J. Abrams plays this trailer's ace: Harrison Ford and Peter Mayhew, back as Han Solo and Chewbacca. "Chewie… We're home." Indeed you are, Sir. Welcome back.
Dork Adore Excitement Levels: 4/5, with the potential to crash through the roof as Christmas 2015 approaches.
Batman V. Superman: Dawn of Justice
DC's first salute in their five year plan is some way away yet, but due to an early trailer leak, the official trailer for Batman V. Superman debuted online last week. It is, as befits a Zack Snyder effort, suitably dark – dealing with the aftermath of the events of Man of Steel, the trailer starts with snippets from news reports, questioning whether Superman is all what he seems to be. "Absolute power corrupts, absolutely" chimes one of the voices, not long before the giant Superman statue in the midst of the city shows some us some very poignant graffiti: FALSE GOD.
We then get our first look at Batfleck himself, Ben Affleck as an older and visibly wearier version of the Caped Crusader. What we possibly can deduce is that this is a Batman who's been out of the costume for some time, knowing full well himself what absolute power can do. Superman's actions seem to drive him back to who he used to be, and he looks keen to teach the False God himself a lesson or two. It's an intriguing angle to take, stripping Superman of his can-do-no-wrong status. And whether you like Ben Affleck or not, you can't deny that his looks to be a very different Batman…
Dork Adore Excitement Levels: 3/5, with ample possibility to build between now and 2016.
Is Star Wars: The Force Awakens already circled red in your diary? Does the first glimpse at Batman V. Superman soothe any worries you may have had? Let us know.