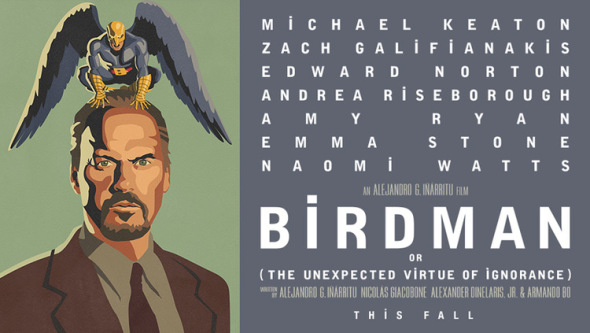 As I've mentioned before (and as you probably would have guessed by now) 2015 is set to be an absolutely stellar year if you're a cinephile. You don't even have to wait long for the year to get going, because January is filled with gems from day one. And one of those gems, actually out on January 1st, has already been showered with praise by critics and has been noted as a potential awards season favourite.
Biopic? Rousing drama? Nope, it's an indie black comedy about a man who used to be the face of a blockbuster franchise.
Birdman (Or The Unexpected Virtue of Ignorance)
Directed by: Alejandro González Iñárritu
Starring: Michael Keaton, Zach Galifianakis, Edward Norton, Emma Stone, Andrea Riseborough, Naomi Watts, Amy Ryan, Merrit Weaver and others
Rated: 15
Running time: 119 minutes
Out on January 1st
What's it about?
Washed-up Hollywood actor Riggan Thomson (Michael Keaton) used to be the lead in the blockbuster film franchise Birdman. More than 20 years after leaving the multi-million dollar franchise behind, he's making plans to reinvent himself and reinvigorate his career by scoring a creative hat trick and writing, directing and starring in an adaptation of Raymond Carver's What We Talk About When We Talk About Love.
In the days leading up to the opening night, Riggan battles his own ego, struggles to adjust to the concept of social media and tries to keep both himself and his family together. All while he occasionally hears the voice of himself, in character as Birdman, either taking the piss out of him or giving him confidence.
Why look forward to it?
In a neat bit of casting inception, Riggan Thomson is played by Michael Keaton – himself the former face of what ended up becoming a blockbuster franchise (playing the Caped Crusader in Tim Burton's Batman and Batman Returns). It's showbiz satire at its finest and most biting, and judging from the trailer, it's got plenty of scratch-your-head-funny moments to sit alongside the dramatic beats.
Keaton is joined by Zach Galifianakis (as Thomson's lawyer/bestie and producer of the play), Emma Stone (as Thomson's daughter and PA Sam), Edward Norton (as unnerving Broadway actor Mike Shiner), Andrea Riseborough (as Thomson's girlfriend, Laura), Naomi Watts (as Lesley, one of the actors cast in the play) and Amy Ryan (Thomson's ex-wife, Sylvia). Birdman has been out in the States for a couple of weeks now and has been showered with praise for just about every aspect of the film – with Keaton's performance singled out by some as the comeback of the century and his name coming up as the one to beat come the Oscars.
Come New Year's Day, you can go and see for yourself if Birdman is worth all the praise… but sleep off your New Year's Eve hangover first, of course.
Birdman (Or The Unexpected Virtue of Ignorance) flies into cinemas (ha ha ha) on New Year's Day.