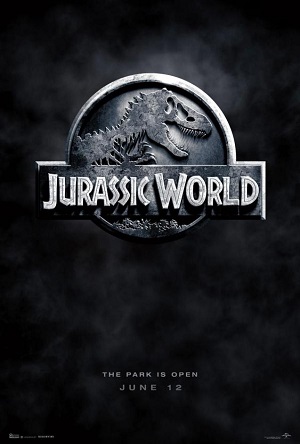 Stay very, very still. Don't move a muscle and don't say a word. Because after over a decade in that uncertain grey space known as Development Hell, the doors to the world's most dangerous amusement park are opening once more. Yes, next June we return to Isla Nublar and step back into the world of Jurassic Park. What's been happening in the twenty-two years since John Hammond (the late, great Richard Attenborough) first showed us his vision?
Well, for a start, it came true and is now a fully functioning dinosaur theme park. I'll give you three guesses as to the name of it…
Jurassic World
Directed by: Colin Trevorrow
Starring: Chris Pratt, Bryce Dallas Howard, Vincent D'Onofrio, Jake Johnson, Judy Greer, Nick Robinson, Ty Simpkins and others
In cinemas on June 12th 2015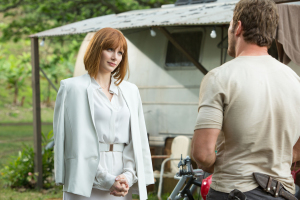 What we know of the plot so far
Chris Pratt (the new Hollywood golden boy and one of Marvel's Trifecta of Chrisses) stars as Owen, an on-site staff member at Jurassic World, who is conducting behavioural research on the park's velociraptor population.
Twenty-two years after the events of Jurassic Park, John Hammond's original vision has become a fully functioning theme park, owned by the Masrani Corporation and its CFO, Morton (Vincent D'Onofrio). The park, however, seems to have lost its sense of novelty and visitor numbers are depleting.
So what do you do when you need to put the spark back in your park? Create a new attraction, of course. But when the new attraction backfires spectacularly, it's up to Owen (described as a rugged ex-military man according to casting details) to save the day…
Pratt and D'Onofrio are joined by Bryce Dallas Howard (as Claire), Ty Simpkins and Nick Robinson (Claire's nephews Gray and Zach), BD Wong (as Dr. Henry Wu), Irrfan Khan (as the owner of Jurassic World, Simon Masrani) and Jake Johnson (as park tech Lowery).
The teaser trailer
The rather annoying trend of a trailer for the trailer (like they did with Fifty Shades of Grey) persists, and Jurassic World released its teaser trailer (for the actual trailer, which comes out this Thursday) last weekend.
Fortunately, this trailer-let one does do the job of getting you pretty excited for its big brother.
Jurassic World roars to life on June 12th, 2015. The full first trailer debuts on Thanksgiving, which is this Thursday.
Update (27/11)
The full trailer has arrived, in all its spectacular glory. If the teaser trailer whetted your appetite for the full trailer, the actual full fledged trailer will make you want to travel forward in time to next June… And because we love you, you can watch it below.