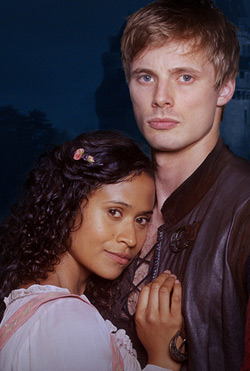 After barely appearing last time, there's a lot more Gwen in this week's Merlin. Because, after two years of light teasing, this episode finally tackles her obvious attraction to that dashing Prince Arthur head-on.
So, can love prosper across the class divide? Will Camelot society change, or once again reset back to normal at the end? Read on…
Gwen And Arthur: Edging Ever Closer
Over the course of this year, the hinting about Gwen and Arthur's mutual attraction has been constant. In fact, it's probably been the second biggest storyline in the show after the Evil Morgana saga (of which more later). Some have complained in the comments that the Merlin/Arthur relationship has been rather left out as a result, and they may have a point.
Still, the male-bonding relationship can't progress much unless Merlin reveals his secret, which clearly they aren't yet willing to do, so I'd rather they focus on subplots they can advance. And this week, they successfully created a feeling of progress. Not the quantum leap I mentioned last week, but I didn't feel I'd been conned. (Although it did amuse me that in an episode devoted to Arthur's lovelife, he didn't take his top off once.)
Also: Merlin's time as "Druul", or whatever his name was, had a few good lines, as well as an impressive make-up job. Even if I did spend a few minutes rolling my eyes and muttering "Can't you just use your magic powers to escape that cell and hide?". At least he remembered them by the very end.
Evil Morgana: Caught In The Act
As well as taking the Arthur/Gwen saga a few inches forward, there's a whole lot of Evil Morgana this week, as she conspires to have her faithful maid disposed of. If they're going to have her suffer from an attack of conscience in the finale, she'll need to be doing something pretty appalling first.
However, it was gratifying when a major character recognised her involvement because they caught her smirking behind the King. She's been doing that pretty conspicuously all year; it's about time someone pointed it out.
So after my disappointment with The Eye Of The Phoenix and Love In The Time Of Dragons, yes, this was a much better Merlin. I noticed it was written by Howard Overman , Misfits creator, which could be one reason why; there were a lot of fun moments, including Uther's initial reaction to Arthur and Gwen. So yes, I must check out anything he does in the future. In the meantime, check this one out on iPlayer, so you can let me know whether you enjoyed it as well.
More Merlin on Dork Adore | Merlin: Our Series Three Wish List