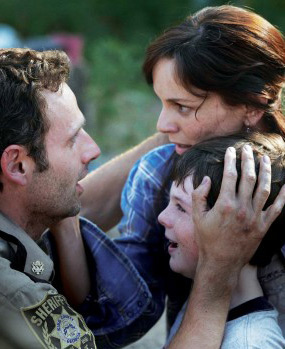 As we travelled wearily through this week's The Walking Dead, it was easy to get nervous and paranoid. After all, at any moment a zombie or big emotional moment could leap out on us. The tension was thicker than those ignorant Southern stereotypes pounding around Rick's camp.
As the buzz surrounding this series grows to critical mass, will there be any mid-section sag? Can you believe we're halfway through the season already?
Horror + Soap = Hoap opera?
What they've crafted here is a careful combination of soap opera and horror. The survivors are as much at risk from each other as from the flesh eating corpses, and that really started to come through this week. (Said theme, by the way, is very much in keeping with what I've read of the comic.)
The zombies, in fact, were a much smaller presence this week, with few big splurge horror moments or moments of peril. No, this week was all about the soap, as we got a closer look at the tensions back in the camp, and within the Grimes marriage. Which, by the way, was very well-portrayed, and I'm looking forward to seeing how they both develop over the series.
And considering this is the first episode in which the whole cast have been in the same place, it was nice to have a chance to see them all interact and so forth. I have faith that we can look forward to more action going down next week.
Shane: A Rare Negative Point
Although I continue to enjoy the show, I will say this: I was disappointed with the developments this week regarding Shane. They appear to be developing towards him being a bit of a bastard, which saddens me as I think the series would be more interesting if Shane were genuine.
His lying to Lori removes any ambiguity in future confrontations between him and Rick, and I think it would have been more challenging if this hadn't been the case. But we'll have to wait and see where it ends up going.
But despite that, I was still thoroughly immersed in this episode. A few of the chickens from previous episodes come back to roost, with plenty more left for the remainder of the season. So far, this is one of the strongest opening years for a new series that I've seen in a while.
More The Walking Dead on Dork Adore | The Walking Dead: Guts – Dork Review