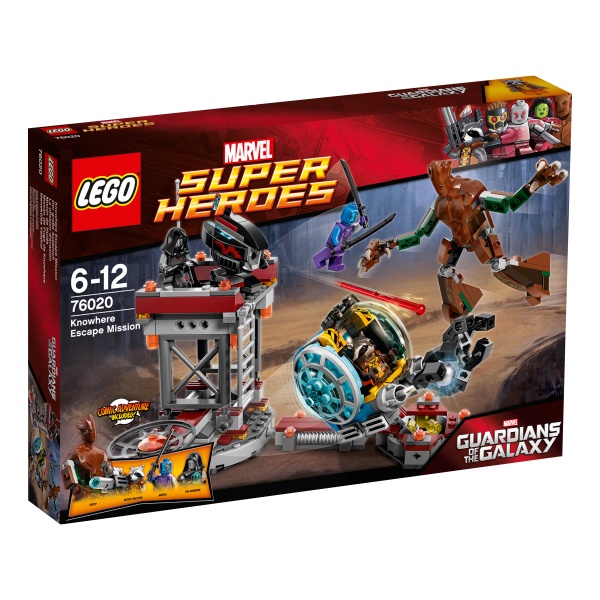 There's a new Marvel film franchise on the way, which happily means a whole new bunch of LEGO sets. The Guardians of the Galaxy, set out in the deepest reaches of space, is not so much about superheroes, more a sort of intergalactic Dirty Dozen out to save the galaxy. Think Battle Beyond the Stars, or something… but with a huge laser-gun toting space raccoon. It's been a comic for an age, and now with the film coming out this summer, the whole world will know about it.
The Knowhere Escape Mission (RRP £44.99), which I presume features in the film somewhere, has many of the best elements of the series. Particularly brilliant is the fact that the set is designed to be 'blown apart', so when you want to send the baddies flying to their doom, you hit a seesaw-like rocker and the set pings apart. You also get the awesome Rocket Raccoon, a real highlight (though nothing to do with the Beatles song, sadly). Though he's a little minifig – with annoyingly unbendable legs – he's still excellent fun, and comes with a laser as big as him.
Size plays a big role here, as you also get Groot, who's a terrific LEGO creation. A bit like Treebeard from Lord of the Rings, Groot is huge and woody, and built from blocks rather than being a minifig, allowing him to tower above everything. He stomps really well. Hell, he stomps on baddies like a gnarly giant tree thingy! And then there's Nebula with her Samurai swords – it's lovely to have a kick-ass lady baddie. She's still the sole lady out of four minifigs, but at least she's there.
I'm certain you can have a lot of fun with this explosive, colourful set. Rocket's ship is eye-catching and sturdy, and with ace gripper hand bits. He's good for a scrap or two, and the baddie Sakaaran has a powerful spring-loaded shooty gun (I like shooty bits – I still pine for Crossbows & Catapults, and firing things at toy bricks), so you can have some awesome intergalactic battles while losing pieces willy-nilly.
Talking of losing pieces, the instructions rightly tell you to avoid shooting the super-fast rockets at friends (or more specifically, eyes), though that might also be a way of passing an afternoon once the intergalactic battles have lost their appeal.
One geeky thing of note, is that this series marks the excellent Chris Pratt's second starring role in the LEGO universe, (he played Emmett in the LEGO Movie). By now, he must have a nice selection of LEGO self portraits on his mantelpiece. His Star-lord minifig comes in a different set, which is also worth checking out.
The Guardians of the Galaxy LEGO kits are a winner, and would tie up really nicely with a lot of the LEGO Space sets. So there's massive potential for interstellar fun.
More lovely LEGO on Dork Adore