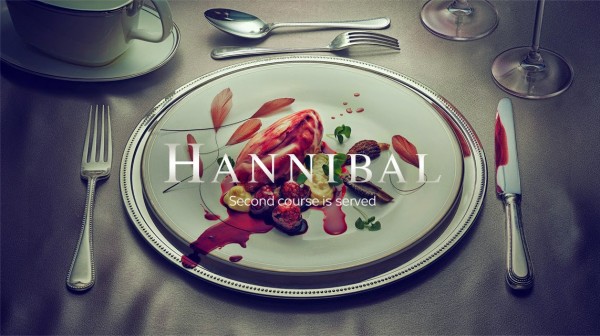 Last year, on this very site, I waxed favourably about Sky Living's Hannibal. Bryan Fuller's stylish, elegant and dark take on the Hannibal Lecter story was one of my personal TV highlights of the year, and I was very pleased when it got an eleventh hour renewal by NBC.
I'm assuming the giant army of fans the show has acquired (shout out to the Fannibals!) was equally pleased.
(Possible spoilers under the jump. Catch up on series one and buy the boxset on Amazon.)
But despite being awesome, riveting and absolutely terrifying, Hannibal is still criminally under-watched. So, as it's the week where our favourite psychiatrist/cannibal returns to serve his second course to the UK viewers, what better time to convince you of the fact that this show is worth watching?
Here are a couple of things you can expect from series two of Hannibal.
The fall-out from Will's arrest
At the end of Savoureux, Hannibal had Will Graham right where he wanted him: in prison, framed for his murders. So with Will starting the season behind bars, you can bet that he's hell-bent on getting back at the not-so-good doctor.
And with Will due to stand on trial, it gets very ugly, very quickly.
The introduction of the Vergers
If you've read the books or are clued up on the history of Hannibal, the names Mason and Margot Verger will ring a bell. Both of them are introduced this series, with horror veteran Katharine Isabelle (Ginger Snaps, American Mary, …) and Michael Pitt (Boardwalk Empire, The Dreamers,…) taking up the parts.
More murder tableaux
The striking, artistic and shocking murder tableaux from series one are, of course, present and accounted for. Look out for the murder collage in episodes 1 and 2, and the particularly terrifying bee-related one in episode 4.
Oh, and then there's the horse…
The stating of the bloomin' obvious
Yes, someone finally notices what's been right under everyone's nose the entire time – Hannibal rhymes with cannibal. THANK GOD.
Shocks!
And plenty of them. Nobody is safe in the Hannibal-verse, so expect plenty of "OH MY GOD YOU DID NOT JUST" moments in the weeks ahead. Similarly, don't believe all you've seen in series one is truth set in stone…
Will turns the tables
As you may expect, Will is determined to uncover his lost memories and get payback for Hannibal's actions. But exactly how far is Will prepared to go to get his reckoning? And who will end up being the real psychopath in this twisted game?
The fight of the century
You may not have seen any full episodes of series two yet, but trust me, you will have heard about the opening scene. Taking the term "back with a bang" to a whole new level, opening episode Kaiseki starts with a brutal and unrelenting fight between Hannibal and Agent Jack Crawford. There is no immediate reason given, but you know there is one there – otherwise Jack wouldn't have shown up at Hannibal's house.
And just as the fight seemingly reaches its climax, with Crawford in dire straits, Bryan Fuller pulls out the rug from under us… and flashes back to twelve weeks earlier…
If you've not seen any of Hannibal, then I can wholeheartedly recommend getting series one on DVD. And if you're chomping at the bits (he he) to watch series two, then you've only got one more day until dinner is served…
Hannibal returns to Sky Living, Tuesdays at 10 pm (repeat Saturday at 9 pm).
Related articles across the web