If you're the sort of discerning viewer of television that stays up late just to catch the best shows, you may have noticed this one around. Hannibal, a series concocted by Bryan Fuller (of Pushing Daisies and Dead Like Me fame) tells the story of the uneasy friendship between FBI Special Investigator Will Graham and forensic psychiatrist Hannibal Lecter.
You may have heard of him. 
But why, do you ask, need there be a television show about fiction's most famous cannibal? Surely he's been done to death in books and the movies? Well, sure, there are a lot of books and movies about Mr. I-Ate-His-Liver-With-A-Nice-Chianti, but this series is something different. Something special. Here are five reasons you need to watch Hannibal. Like, right now.
The Cast
Thought that casting British charmer Hugh Dancy as Will Graham was a genius move? Well, see what you make of Danish golden boy Mads Mikkelsen's turn as the titular cannibal. Both roles fit both actors as perfect as a leather glove on a dainty hand. And with a supporting cast boasting the likes of Laurence Fishburne and Canadian actress Caroline Dhavernas, you can hardly go wrong. Look out for recurring roles by The X Files legend Gillian Anderson and Firefly alumna Gina Torres later in the series.
The Scarily Accurate Minute Details
Not only is each episode named after an element of French cuisine (the pilot is titled Apéritif), Fuller also went through the trouble of hiring  José Andrés, a former pupil of El Bulli's Ferran Adria, to serve as the show's culinary cannibal consultant. What does that mean? It means that he will be advising the crew on the proper procedures for preparing human flesh for consumption. According to him "everything is edible". You've got to admit, it's commitment to the cause.
Hannibal's Suits
Really. The wardrobe department have spared no costs in making Mikkelsen's Hannibal look as dapper as possible.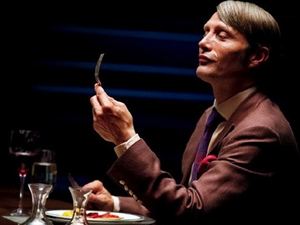 Alfred Hitchcock's Principle Of Suspense
Oh believe me, Hitch's principle is used to its full extent here. From the scenes where Lecter is preparing what are obviously organs in the kitchen (fun fact : according to Fuller, Mikkelsen does all his own carving) and serving them to unsuspecting dinner guests, to the moments where he knowingly puts Graham into dangerous situations. "Show the audience the bomb under the table and let them sweat when it's going to go boom." And it is never more true than in this show.
It's Gore, But Know As You Know It
Of course there's going to be gore. It's Hannibal. But although there's blood and limbs a-plenty, it is never not out of context for the story. Every drop of blood is used to influence the state of Will Graham's mind and to further his connection to Lecter. Every organ and every limb drives him closer to the edge. And it is wonderful, if slightly scary to watch unfold.
Catch Hannibal every Tuesday night at 10 PM on Sky Living and Sky Living HD – More on Hannibal on Wikipedia – More on the character of Hannibal Lecter on Wikipedia