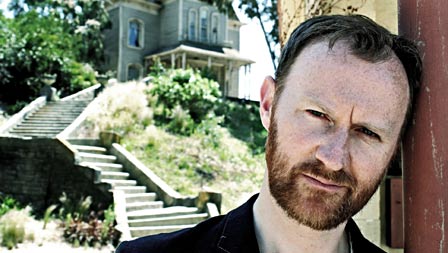 There are certain people in television who tend to act like a guarantee of quality, of something a little different and something genuinely inventive and interesting – and I think Mark Gatiss, whether as writer, performer or presenter is certainly one of them. From The League of Gentlemen to Sherlock, he's been involved in some of the best telly of the 21st century, and — from what I'd been reading — it seemed that his History of Horror on BBC Four was proving no different. Finally, I've taken a look…
This was the third episode in the series, and Gatiss has reached the 1960s and 70s – a golden age for Hollywood horror. The episode opened with a few minutes about Psycho, and how it opened doors to a new type of horror film where the lead is far from immune from a grisly end. But this classic is well-trodden ground, and so Gatiss quickly moved onto other greats, including the groundbreaking Night of the Living Dead from George A Romero, and one I wasn't at all familiar with, Rosemary's Baby, which Gatiss suggests contains one of horror's best lines: "What have you done to it? What have you done to its eyes?" That *is* some classic dialogue.
A complete horror dunce-slash-wuss, I found this hugely informative, and beautifully shot with its own sort of quiet uneasiness. I even managed to watch most of it without having to peer through my fingers…
Not much of an Event…
Over on Channel 4, high concept confuse-fest The Event has been given the primetime Friday night slot which used to be reserved for great comedy. Personally I'd prefer Fraiser re-runs.
Hanging on the coat-tails of Lost, but with none of the fun and innovation that got that series off to such a fantastic start, The Event is just plain dull because all of the characters are just plain dull. There's a dull 'they've all got it in for me' everyman lead, a dull, liberal President, a dull, ice-cold, maybe-baddie alien woman, and a dull supporting cast. Not a joke, not a witty comment between them. I mean come on, even Invasion had the genuinely funny Tyler Labine as Dave to lighten the mood and Invasion was rubbish. And for a show called The Event, I spend a hell of a lot of a time waiting for something to happen…
Seriously scary Psychoville
By complete contrast, the first series of Psychoville, the creepy sitcom from The League of Gentlemen's Reece Shearsmith and Steven Pemberton was probably my favourite show of last year. Funny, creative and genuinely disturbing at times, it was a delight to see something completely different on the tellybox, and the episode filmed with one continuous shot (ok, two actually) was just fabulous. We'll have to wait until the new year for a second full series, but we got a little reminder of how great the programme is with this Hallowe'en special, which featured creepy stories about tortured nurse Joy, Mr Jelly, Oscar Lomax and everyone's favourite homicidal mother and son team, the Sowerbutts.
From the moment we saw Dame Eileen Atkins stuffing her special Hallowe'en with thumb tacks to give trick or treaters a nasty surprise, and those two freaky kids turned up on Mr Jelly's doorstep, I was utterly hooked. And entertained. And scared witless. It may not have been laugh-out-loud funny – though Mr Jelly's turn of phrase is always brilliant, and I love the Sowerbutts' banter – but it was made by people who clearly don't need to watch a beginner's history of horror. Packed full of references to classic movies, this was seriously disturbing stuff, and with its independent, no-consequences stories, this was really reminiscent of The Simpsons Hallowe'en specials. Only much, much scarier, and much, much better. Roll on Series 2.
Dude, Obama's on The Daily Show
And finally, the must-see moment of the week came courtesy of the consistently excellent Daily Show, with King Jon Stewart interviewing President Barack Obama. Unfortunately, I suspect neither of them came out of it feeling they'd done particularly well — 'disillusioned fanboy' was always going to be a tough role to play for Stewart and, incredibly, Obama made a couple of major rhetoric-related mistakes, most notably actually uttering the line "Yes we can, but…" Ouch.
The other trip-up was using the phrase "heck of a job", bringing to mind Bush's much-maligned assessment of the Katrina clean-up. It was this that prompted Stewart to call the Pres 'dude' and context is key. He wasn't being disrespectful, he wasn't being over-familiar, he was trying to cover Obama's mistake — and it was a genuinely massive TV moment.
Next week, it's double act central as Rob Brydon and Steve Coogan go on a big Trip, I check whether Armstrong and Miller can live up to the dizzy heights of the first episode of the new series (their best show yet), and there will be much fawning over new Wallace and Gromt (I'm guessing).