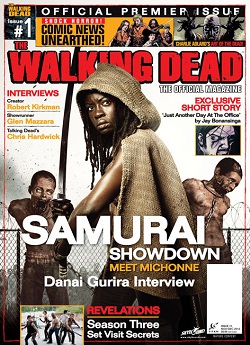 The first issue of the official Walking Dead Magazine is here! I've experienced both the comic and the TV show, so was excited to sink my teeth into an advance copy. We've got features covering not only the two most famous versions, but video games, tie-in novels and such as well.
So, never one to skimp on my geeky interests, I read all 100 pages (yes, including the adverts) to bring you the definitive verdict on this thing.
The Publishing Dead?
My first thought was "How on earth are they going to get 100 worthwhile pages out of that?" To the editors' credit, they've pulled it off without too much filler. No, I'm not sure we needed so many pages just describing storylines – the aim is surely to augment the material, not save us the trouble of bothering – but there is now so much stuff in The Walking Dead media empire, they've got decent scope.
So we have interviews with original creator Robert Kirkman, comic book artist Charlie Adlard, TV showrunner Glen Mazzara, Michonne actress Danai Gurira and tie-in talkshow host Chris Hardwick. Plenty of cast still to go. Admittedly, these are not deep, intense interviews, although Gurira has strong moments, but there's plenty of info.
And for those of us (me) worried they would focus on the TV show to the weird exclusion of the graphic novels, not the case. The moving version does get more pages, but you never feel the comic is being ignored. And there is an original short prose story, so even "proper" fictional content.
It's A Star Rating, Not A Swearword
We do hit the awkward spectacle of an "Official" magazine reviewing the official merchandise, spending mostly describing it, a few quotes from the people who worked on it and never giving a detailed opinion beyond "****". Doesn't work for me as a picky critic, but comes with the territory.
The production values are high, this looks and feels like a quality product (good thing too, as it's rather expensive) but I must admit it never quite got past the slight sense of "… but why?" for me. As a fan of the stories, I'd rather spend my money on the comics, TV episodes, novels and video games themselves. Buying a magazine about them seems superfluous when there's already plenty of product info and publicity interviews on the internet.
But if you can get past the philosophical questions and conclude that you do want a Walking Dead magazine, yeah, the folk at Titan done a pretty good job of making one.
The Walking Dead Magazine is available on newsstands and comic book stores in the U.S. today, in the U.K. on November 8 and Australia & New Zealand on December 18. Digital editions will be available globally on the iPad, Nook and Kindle Fire from today. More info on the official magazine website.
More The Walking Dead on Dork Adore | The Walking Dead: Seed – Dork Review