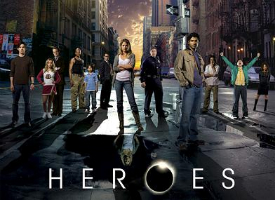 Last Saturday, the fourth season of Heroes finally finished on BBC2. Well, I say Saturday, it was actually the wee hours of Sunday, because they crammed the final two episodes into a double bill, then shoved them back in time, Hiro-style, due to the snooker over-running. It's as if they don't really care about this show anymore.
Which is a shame, as the latest season was possibly the best since the very first. Not to say it was perfect, as I'm not sure Heroes has ever  been that, but new character Emma was endearing, arch-villain Samuel was compelling and, most incredibly, Peter Petrelli was not annoying.
Since it started, Heroes has gloried in bringing superhero comic book story-telling to the masses, making it seem acceptable through the simple gimmick of ditching those stupid circus costumes. But as the years went by, the story-telling fell into many of the same traps as the comics: constant deaths and resurrections, self-indulgent plots exploring the backside of its own continuity and a needy over-attachment to the status quo.
But the new season established a few simple storylines and introduced new elements, rather than poking at the old ones. The pacing was solid and, for the first time, there was no flash forward to a dystopian future. Nor did they spend all season building a threat, only to boot it aside in the finale in favour of yet another fight with Sylar.
So it did something a bit different, whilst still keeping the essentials. So, yes, Claire whinged about her urge to be normal, Sylar agonised over his villain/hero/villain status, but those storylines showed signs of progressing. Meanwhile, a long-standing lead character died and appears to be remaining expired for once.
As ever, there's room for improvement. For example, the writers seem to have mislaid the memo about giving sci-fi characters fictional diseases, so you can have them magically cured without making the audience feel uncomfortable. Although I love Hiro Nakamura, and will do so until I die of the Legacy Virus, his cancer storyline missed the mark.
Unfortunately, it's not just the BBC who have stopped caring about Heroes. Ratings have dropped down the toilet, through the pipes and into the cess pit out back. As of this writing, there's no word on whether a fifth year will happen. And I'd love to be able to say that this season provides an adequate finale, but it doesn't. The finale ends on an enormous honking cliffhanger, setting up many possibilities for the future.
So I hope the flying boys and girls of Heroes come back for one last spin somehow, because with the quality of this year, they've earned the chance to wrap things up properly. They might look a bit dead right now, but that's nothing they haven't arbitrarily recovered from before.