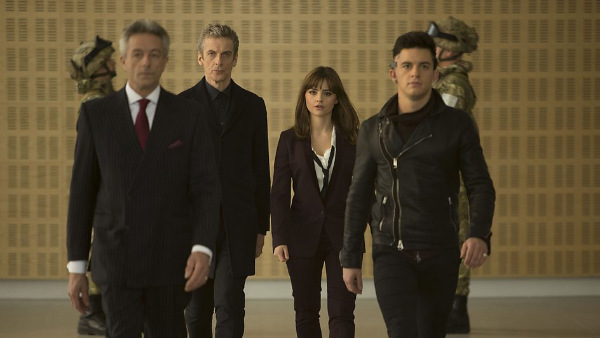 Another doozie from the Twelfth Doctor as the series continues to keep form and the Doctor has started to bed in nicely.
Yep, I'm sold. I know my quality control levels are set to 'over-enthusiastic fan-girl' when it comes to Doctor Who, but I really am loving this series. Even my other half, who often seems to be watching a different programme to me, thought this episode was "fun" and "good". High praise indeed.
So we had a bank heist; but a heist with a twist. Ocean's Eleven meets Total Recall. Luckily, Clara had opted for rat pack chic with her second date outfit so she looked perfect in the slo-mo stride shot. The other members of the rat pack – Psi, an augmented human and Saibra, a member of the X-Men (with powers that combined Rogue with Mystique) – felt part of the gang surprisingly quick given that no one knew who anyone else was. I'd happily see more of both.
Keeley Hawes gets hammy
The memory wipe was a lovely plot device, saving us from having to question why the Doctor would ever agree to rob a bank. Plus, it meant we got to get straight into the action. Keeley Hawes was clearly having a field day with her baddie, rocking a couple of pairs of truly spectacular spectacles. And the "monster", The Teller,  looked excellent. Eye stalks are cool.
And the architect himself? Well, The Doctor hated him, which probably tells you all you need to know about The Doctor's self-esteem issues.
This one was another good stand-alone episode. I was expecting Missy to pop up again when Saibra and Psi sacrificed themselves, but that was a red herring. We didn't get a whole lot of Dan Pink either, although it looks like the next episode is going to be fulled Pinked up. The Doctor seems a little bit jealous that he's got a rival for Clara's attention.
Roll on the next one!
Read my last review here: Listen