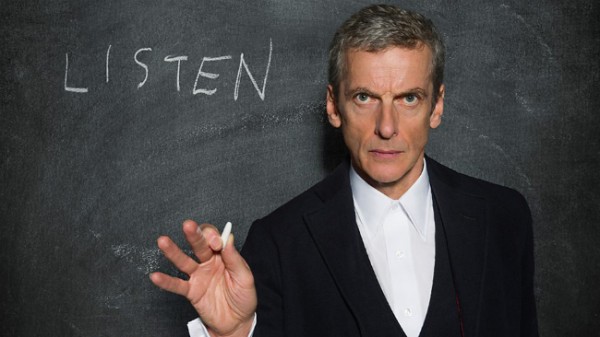 Massive Spoiler Alert – definitely don't read this if you haven't watched and don't want one of the scariest episodes ruined. 
Now it's won't surprise you to learn that I've been confused – it's easily done. And after all, it IS Doctor Who. I mean, I STILL haven't worked out what Sylvester McCoy was doing with that giant Bertie Bassett fella. But I admit I couldn't understand Clara had against this Doctor's face.
Given that she's the Impossible Girl who has been green screened into every part of the Doctor's timeline thus far, she seemed remarkably put off by the Capaldi when she met him. I mean, he's no oil painting, but Number Three looked like Worzel Gummage for goodness' sakes. You'd think she'd be pretty relaxed – of all people – to see a new face wrapped around that old brain.
But maybe Clara just didn't feel an immediate kinship with the Twelfth Doctor because she hadn't crossed his path yet. All that changed tonight when Clara ignored the Doctor's pretty clear instructions, got distracted and sent the TARDIS off on an unscheduled tour of the Pink family timeline. At least she didn't think of a giant Stay Puft marshmallow man, I guess.
So Dan Pink is a special one, eh? Despite a first date that made you wonder if they were both suffering from some kind of personality disorder, Clara and Dan look set to become this season's hot young couple. If only Clara could sit in her seat for more than five minutes without jumping into the TARDIS.
Scariest episode since Blink?
But what about the storyline? This was one of Moffat's trademark scary ones. And it really did give me the willies.
I was watching on my own in a strange house while my friend's children were asleep in bed. Half way through I had to stop to explore a noise in another room. I thought one of the children had got up, but there was nothing there. I steeled myself for an encounter with a hiding stranger. I flicked on the light and the family hamster blinked, stared at me in utter disgust and threw her empty bowl across her cage. I've never seen so much moral outrage in such a tiny mammal. And the hamster wasn't impressed either.
So, I was especially scared in this episode. And I really enjoyed the twist in the tale too, with Clara's appearance in this Doctor's timeline (on Gallifrey!) kicking off the whole story (it turned out) and setting the War Doctor up.
But I have some questions. What was in the red blanket? Who wrote Listen on the Doctor's chalkboard? Why didn't Clara take off those heels before climbing a barn ladder?
Questions aside, I loved this chamber episode. I always do enjoy a good chamber episode – and not just because I feel like the Beeb is being frugal with my licence fee. Moffat got to combine his two greatest skills – scaring us back into childhood and writing awkward rom com scenes. Not to mention the on-going Doctor-Clara insult tag, which I'm enjoying very much. I think even the Doctor Who moaners would be hard pressed to say this wasn't up there with some of the best episodes (but I'm sure they'll have a good crack at it).
Oh, and BAFTA for the sound effects!
Next week we've got Doctor Who does Hustle. Spookily, after Robot Hood, I turned to my nerd companion and said "they haven't done a Hustle episode yet. They should get Tony Jordan to write it." Tony didn't do this one, but let's hope Time Heist is as good as something he'd have concocted. Steve Thompson hasn't written my favourite episodes, but fingers crossed!
Read my last one: Doctor Who's romp into silliness.