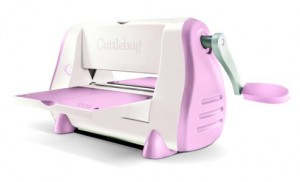 I know it sounds like some sort of scuttly creature, but the Cuttlebug from Provo Craft is actually a rather swish machine for die cutting and embossing paper.
The machine comes pretty much ready to go — all you have to do is attach the handle. The instructions are very clear and the user manual is easy to understand, which is always handy!
The Cuttlebug itself is pretty compact so it isn't going to take up too much space in your craft room or on your craft table. It is slightly heavier than you might imagine when you first pick it up, in a reassuringly solid kind of way, but it is easily portable with its own integral handle.
So that's enough talk, what about some action.
Putting the Cuttlebug to the test
The Cuttlebug incorporates a suction system to hold it securely in place on your work surface. It is rather simply activated by lowering down the two platforms, and believe me once you do it ain't going anywhere!
I received a die cutter and some embossing folders to try out with the Cuttlebug. It was super simple to both cut and emboss the paper following the instructions in the user manual. You do have to give it a bit of welly when you are turning the handle to move the cutting pads through the machine, and to be totally honest I was slightly concerned that I was going to break the whole thing on my first attempt, but it transpired there was no need to worry at all.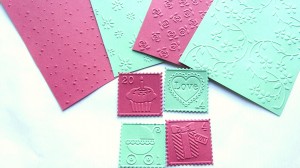 I was suitably impressed with the results, which can be seen in the image on the left. The cutting and embossing were even and clean on the first attempt.
Apparently the machine can cut through materials up to a thickness of 1/8″ and it is also possible to use other brand steel rule dies as well as the extensive range offered by Provo Craft themselves.
Conclusion
All in all, I would imagine that this piece of kit would be warmly welcomed by anyone who listed papercraft, cardmaking or scrapbooking in their hobbies!
The Provo Craft Cuttlebug is available from IdealWorld and costs £89.99. Additional dies and embossing folders are also available from QVC.