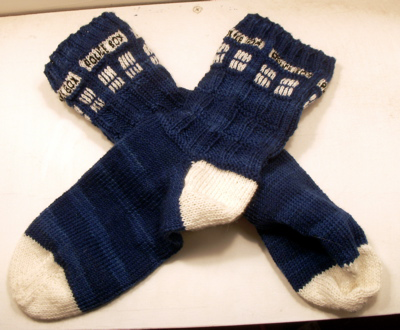 Banish boring socks this Christmas!
Grab those knitting needles and whip up a pair of these wonderful TARDIS socks in time for the festive season. Give them to friends and family and you are guaranteed* to be their favourite son/daughter/sister/brother/friend.
The free pattern is available from the witty little knitter website, which is a website dedicated to the knitting of the authentic Doctor Who scarf.
Seriously, if there was ever anything you wanted to know about those scarves, including an analysis of the relative scarf lengths, I'm sure you could find it on there!
Whilst you are on the site I heartily recommend you take a peek at the My TARDISes section and check out her full sized Police Box and TARDIS tattoo!
*Please note this is not a legal binding guarantee!
Related: Free Patterns on Dork Adore | Dr Who on Dork Adore