Friday 26th October saw me donning a red Pokemon trainer's cap and making my way over to the Excel Centre for the start of London's MCM Comic Con, which smashed all previous attendance records this year with more than 70,000 visitors in attendance.
So, here's part one of a brief low-down of what went on once I'd made it past the first wave of cosplayers…
Related: London Comic Con MCM Expo highlights pt II: Tomb Raider, Ni no Kuni
Matt Smith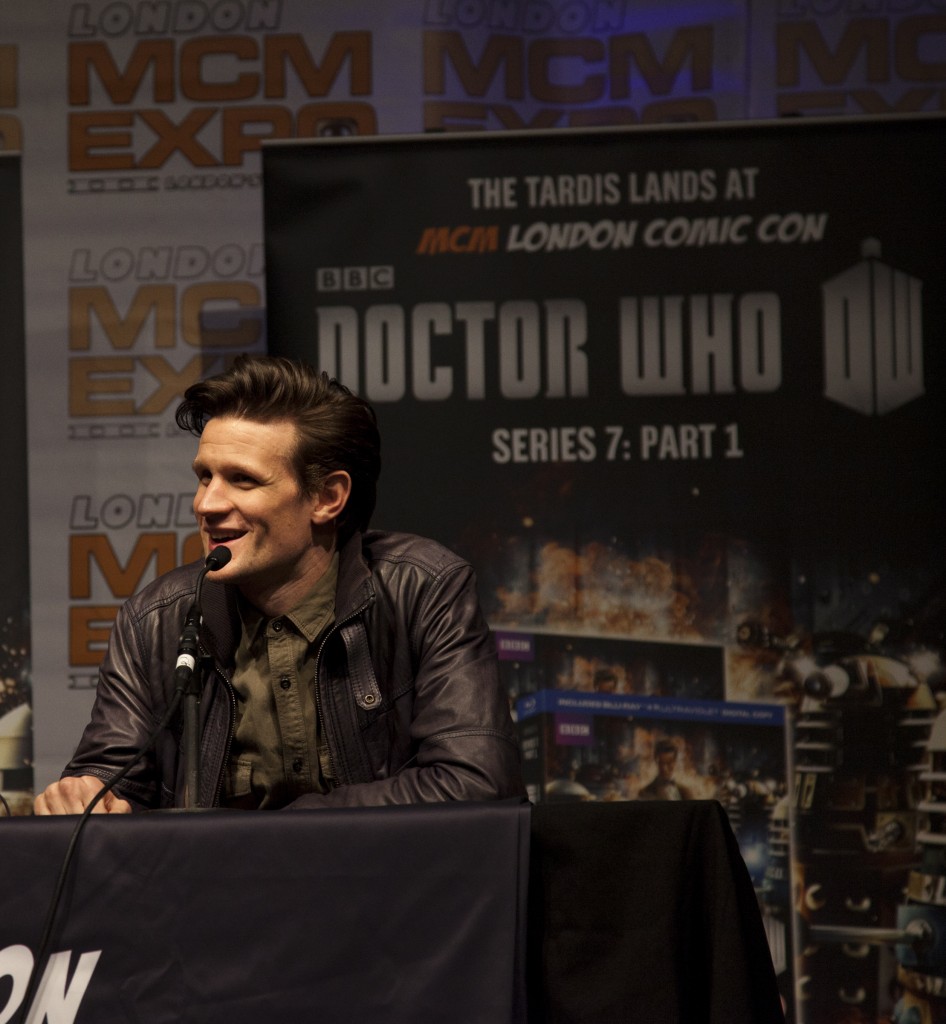 Having waded through hundreds of cosplayers, all feverishly dancing along to Gangnam Style, I finally arrived at one of the Expo's three main stages where panels for various TV shows were going to be held.
No way was I missing seeing Matt Smith.
Unfortunately, just about everyone else at the event had figured the same thing and Stage One was jam-packed with rabid fans.
Nevertheless, I managed to get a seat somewhere near the front where a friendly member of crew was stood giving out cardboard replicas of Matt Smith's face. 'Today is his birthday' she said, by way of explanation.
Not long after, Matt came out onto the panel plinth to a massive round of applause from an audience made up largely of alternative versions of himself. Seemingly unfazed, Matt begins talking about how great it is to be here launching the new Doctor Who DVD and how amazing it had been to travel around filming the last series.
Then a little boy stumbles up to the side of the stage, catching Matt's attention and stopping him mid-sentence.
'Hello!' Matt says, and inadvertently causes the boy, Elliot, to hide behind the man with the microphone.
After a minute's coaxing, Elliot takes the microphone and asks: 'Where's Amy?'
The crowd 'aww's.
'She's having a lovely time in New York, and she's writing a book…' Matt leans conspiratorially towards across his table, 'and she eats fish fingers and custard every lunchtime.'
Matt goes on to tell the audience that Doctor Who is the greatest character he thinks he will ever play, and that he particularly loves the way that the script and sets are always so different episode to episode, fondly confessing that for this same reason 'we're all close to a mental breakdown.'
'It's frightening to think that somebody will come and make me leave!'
When asked if he ever pretends to be the Doctor in real life, Matt confesses that sometimes, in private, he does:
'If you're running a bath, you can do it as the Doctor, only then the bath is more fun. He doesn't just put a rubber duck in there, he puts a rubber duck in there and it talks to you. And its made of raspberries or something.'
Favourite part of the Doctor Who costume?
'Either my bow tie or my boots. I got some new boots that are, like, dope. Properly dope.'
The rest of the panel consisted of Matt speaking with some cosplayers who were dressed as daleks and weeping angels, followed by the obligatory proposal of marriage from someone in the back row ('It's a dark room, so, pendent on a visual, yes, let's talk.'). And then the attendants carted out a great big Tardis-shaped birthday cake.…
MCM London Comic Con returns to ExCel on 24-26 May 2013. The next MCM event is the UK's largest collectors' show, Memorabilia, held at NEC Birmingham on 24-25 November with special guest David Hasselhoff.
Related: London Comic Con MCM Expo highlights pt II: Tomb Raider, Ni no Kuni