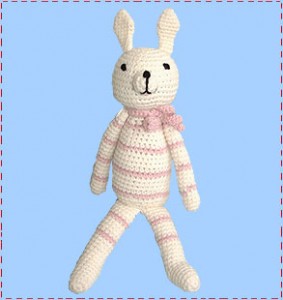 First things first, "Knitted Character" is quite clearly crocheted and if you're a crafty type (like me) that probably bothers you every single week (a handy reminder that crafty types nearly always need to get out more).
Thankfully, the people who actually made the original Knitted Character toy are equally pedantic, and take the trouble to point out the crafting faux pas on their website. Cloth-Ears sell the Knitted Character (and a bunch of his friends) for £10.99.
However, there's a bit of a waiting list – unsurprisingly – and if you're really desperate for your own yarn bunny, some eBay sellers have cobbled together an approximation of the Knitted Character that almost passes for the real thing (if you squint).
If you fancy making one yourself, a pattern like this Amigurumi Crochet Bunny Pattern is a good place to start as is this Easter Bunny Pattern.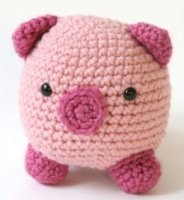 Then, all you need to do is add the nose bit (which you can copy from this amigurumi piggy pattern), make the ears a bit thinner, and add in some pink stripes.
If anyone finds an actual pattern for the Knitted Character out there, please let me know!