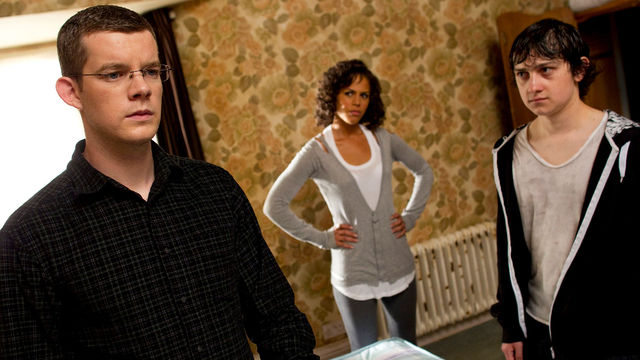 Viewers of last week's Being Human will be well aware that our four leads — Mitchell the vampire, Annie the ghost and werewolf couple George and Nina — were forced to leave Bristol after Mitchell issued a chilling complaint to South West Trains by savagely murdering a carriage-load of commuters on the 8.15 to Taunton.
Unsurprisingly, this attracted unwanted attention from the Avon and Somerset Constabulary, so our quartet decamped to the middle of nowhere, or South Wales, as it is better known, in a vain attempt to keep their collective nose out of trouble.
I say in vain, because it wasn't long before a little local colour livened up our protagonists' drab routine.
New Blood
This week opened with a startled Nina discovering plucky teenage vampire Adam — a welcome antidote to the feebly sensitive demons of the Twilight series — picking over his father's bones in the local hospital. Rather than moping around looking like a lovestruck mime artist, Adam was a real adolescent, with the hormones and puerile humour to prove it. Nina and George swiftly adopted him.
Next came a visit from Richard, an affable businessman vampire who offered not only to take the orphaned Adam in, but also to transport Mitchell to South America on a container ship full of luxury carpets. Now, I'm no economist but isn't Wales a very long way from Puerto Rico? Couldn't you just get your carpets from, say, the U.S.?
Needless to say, Richard's kindness was nothing but a warm front and he was soon revealed, like many fictional Welshmen, to be a sexual deviant of the highest order. After introducing his human pet, Number 7, he proceeded to orgy like it was 1973, before forcibly inviting his young ward to enjoy the energetic delights of his equally mad wife, Emma (played by Gavin and Stacey's Melanie Walters).
This was a wake-up call for Adam, who learnt at once that sex, in the wrong hands, could be very frightening indeed, and upon escaping promptly assumed a far more chaste and mature approach to life. Much like the vampires in Twilight.
At any rate, his rather touching transformation made George and Nina excessively proud, and by the end of the story he had even softened up crotchety old Mitchell.
Pumping on the Stereotype
This was a highly enjoyable episode, far lighter, less gory and more thoughtful than last week's foray into purgatory, in what promises to be another excellent and compelling series. The only questionable note was its rather clichéd view of the Welsh. I mean, was it chance that the first episode set in The Land of Our Fathers was also the first to feature a masochist in a gimp suit? And with Doctor Who and Torchwood already stationed in Cardiff, can't we have some, I don't know, Geordie vampires for a change?
More Being Human on Dork Adore | Review – Being Human Series 3, Episode 1