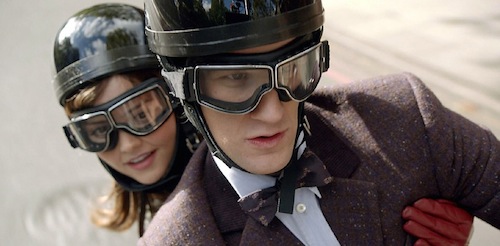 So who is excited about Doctor Who returning to our screens on 30 March? Yup, I didn't think I was the only one – and not only because it's my 21st birthday (I personally take it as a sign from the Doctor), but because these past three months have lacked the show's spark and we need our Whovian fix!
Since part one of series seven finished last year, we have been teased with 2012's  Christmas special The Snowmen which introduced Clara 'Oswin' Oswald in more detail, Let's face it, the sweet-faced, ballsy brunette is filling her companion boots fantastically. The Doctor may have met his match with this one.
This year is the show's 50th anniversary, so with such a huge milestone, fans are expecting fantastic things – and an immersive storyline to boot. By the sounds of things, we are going to get just that.
Starting with The Bells of St John, the Doctor and Clara find themselves faced with a new enemy called the Spoonheads in various iconic London backdrops. This thrilling new adventure plays on something closer to home and this time, it's in the Wi-Fi.

Stephen Moffat has promised new Cybermen, Ice Warriors, undersea adventures and the reveal of the Doctor's greatest secret. If that doesn't send your Tardis into a flurry, I don't know what will.
With a guest list the size of a very, very  long arm, the wrap up of season seven is set to be the most exciting we have watched and with the anniversary right in front of us, who knows who just might make an appearance?
Don't forget to tune into BBC one on March 30th to see the Doctor and his companion do what they do best…run!
In the meantime, here's a link to all our recent Doctor Who stuff.
Watch the prequel to The Bells of St John: