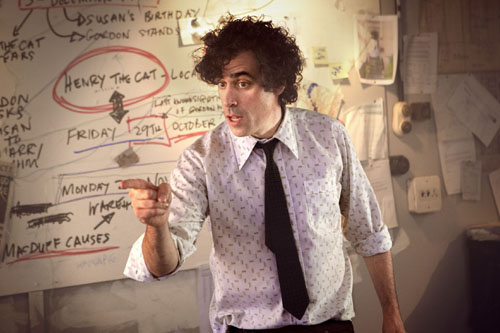 It must be with a certain amount of trepidation that any writer, actor or indeed major television corporation approaches the revered work of Douglas Adams, so it's no real surprise that it has taken so long for his novel Dirk Gently's Holistic Detective Agency to come to the small screen. "Unfilmable as written" according to the actor who has taken on the lead role, Stephen Mangan, BBC Four's adaptation is hardly slavishly faithful – but is it any good?
Marvellous Mangan
Not having read the book I'm afraid I come to this programme from a position of almost complete ignorance. Not for the first time, some might say. As such, I simply have to judge it as a piece of telly, and by those standards it's certainly enjoyable. The primary plus point on the show's CV is undoubtedly Stephen Mangan, who plays the detective who solves mysteries by exploring  'the interconnectedness of all things'. He's rarely puts a foot wrong, from Green Wing through Free Agents to the scandalously short-lived Never Better, and here again he proves himself to be a pretty excellent comic actor.
It is all rather familiar though — unconventional detective with hints of genius insanity supported by an altogether more down-to-earth and pragmatic assistant who isn't quite sure why he's involved? So far, so Sherlock. Or Doctor Who. But hey, it's a formula that's worked in the past and it again works here, but without a massive amount of invention on the part of the script, it does rely massively on Mangan's watchability. Good job he's a hugely watchable then.
Beautiful butterflies
Alliteration, eh? Love it.
The are few things that the BBC does better than nature documentaries – and it's not just the name 'Attenborough' that acts as a mark of quality; simply the words Natural World are usually enough. This week, the series turned its high definition focus onto butterflies, which it casts as a 'very British obsession'. Watching this programme, it's an understandable one – such is the variety, beauty and intriguing transience of this particular little insect. They were made for slow-motion close-ups, and this programme delighted in showing us a caterpillar emerging from its chrysalis, or a Painted Lady on the wing in exquisite, lingering detail. Gorgeous.
Agonising Apprentice
The 'agonising' refers to Wednesday's Apprentice semi-final, when the interviews took place and you (or at least I) had to watch much of it through your (my) fingers. Whether it was poor Jo mispronouncing one of Lord Sugar's companies or Jamie being grilled over his third nipple, as it were, by Margaret, it was pretty horrible to watch. Horrible in a brilliant way, you understand.
By picking Stella and Chris as his final two, Lord Sugar did at least actually ensure that he wouldn't have a complete idiot in his company. Both did thoroughly decent jobs with the final task. Sure Chris's Prism would have your eye out, and Urbon had the worst advert known to man ("Four? Urbons? Please?"), but the overall concepts for both products were totally reasonable. Either would have been a worthy winner, but perhaps that last ditch speech by Stella, which seemed a bit desperate to non-business types, was in the end the thing that got her the job.
By the next WWBW, Christmas will be all over! It's the battle of the chefs to have the best Christmas ever on Channel 4, Upstairs Downstairs returns, and I may just have one or two words to say about Doctor Who as well.