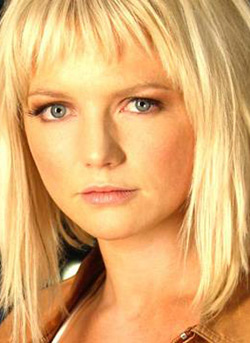 After doing an admirably ropey job on teenagers last week, this time Primeval takes on another time-honoured TV stereotype: the secretive, hostile country bumpkin. They're here with bells on, armed with pitchforks and Wurzel accents, ready to beat down the ARC team because they aren't local.
Not sounding good so far, is it? Will this be another negative review for our dinosaur-hunting heroes?
I've Got A Brand New Velociraptor
The central plot here is one you might have seen before. It was parodied in Hot Fuzz, and also featured in the wretched Torchwood episode "Countrycide". But the dreadful over-use of this storyline doesn't make it bad; that's all in the execution.
So how long has that woman known about the cave, yet not seen the worm?
I know that nonsensical science/magic is part of the genre, these shows do it all the time, but did the garbled "explanation" for the conspiracy make any sense at all? The revelation about the confused farmhand seemed rather tossed off too, before he was finally put out of my misery.
They'd done a good job of making me curious about what might be going on, but I'm afraid creating a sense of anticipation only makes me more disappointed when the eventual explanation is nonsensical.
The Brain Transplant Waiting List
This failure to follow through is what concerns me about the long-running Ethan/Emily/Matt/Gideon subplot, which looks like it'll be the topic of the series finale in two episodes time. I'm starting to lose faith that there will be a pay-off that isn't gibberish. Don't get me wrong, still intrigued, but with a growing sense of dread.
And meanwhile, Connor is confronted with the chance to get taken out of the field. I'm sure he spent two episodes already this year declaring they would have to rip fieldwork from his cold, dead hands, so it's odd he has to take the whole of this one to consider it some more.
But it's not all misery and confusion. Ben Miller finally got a fun role in an episode, and Hannah from S Club 7 and her boyfriend continue to work well together. I hope that Alexander Siddig's Phillip doesn't get written out in the finale, as I like the way he provides tension and can properly act.
So should you still fancy it, Primeval is available on the ITV Player, and then you can comment below to tell me I am a philistine.
More Primeval on Dork Adore | Primeval: Series 4 So Far – Dork Review