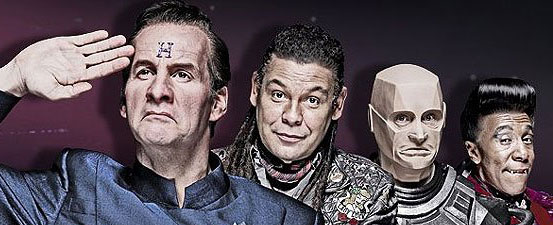 After years on the shelf, Red Dwarf returns on Dave. They had the commercially successful (if critically panned) three-part Back To Earth special in 2009, and now they've spun that good will into a whole new six-episode series.
Is the latest run of space-slobbing up to classic standards? Or will it be an excuse for more people to type the phrase "jumped the shark"? You can see the episode on Dave's catch-up service here, though the system seems buggy.
Four Men And A Massive Space Ship
I'm not sure explaining the premise of Red Dwarf in detail really matters at this stage. There are these four guys – human slob Lister (Craig Charles), self-important hologram Rimmer (Chris Barrie), robot helper Kryten (Robert Llewellyn) and a highly evolved Cat (Danny John-Jules) – and they bum around in their massive space ship, getting into sci-fi comedy scrapes.
Certainly, that's the raw set-up for this tenth series, rather than diving into the quagmire of continuity generated in previous runs, and fair play. More accessible to the casual viewers and they can spend more time being funny.
And as a result, this is pretty good. Just the right amount of silly, the character comedy is genuinely funny – Chris Barrie in particular is great at this stuff – and the science fiction is there to play up the humour, rather than overpowering it.
Clever Comedy Craft Crown Contender?
Don't get me wrong, Red Dwarf as a show is as endearingly broad as it always was, this isn't going to challenge Peep Show and Thick Of It for the Clever Comedy Craft Crown. But I laughed regularly, the scene where Rimmer introduces "his crew" was particularly funny, the chemistry still works and I had fun, so smeg it. As the kids say.
It's standard to trash the last few years of Red Dwarf (basically, one of the co-creators left after series six, and that's seen as a tipping point), and yeah, it's been a wildly inconsistent few years. The low points have been… pretty low. (Yup, I mean Back To Earth. And much of series eight.)
But this was a good start. Yes, continuity is now a total mess, but this wouldn't be the first time Red Dwarf has shrugged off inter-series continuity in favour of simply getting on with it. See the gap between series two and three for the best example. Looking forward to seeing how they do in the remaining weeks of series ten.