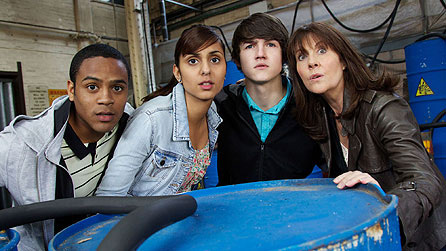 Warm, comforting Sarah Jane Adventures returns to our screens, and proves not to be as relaxingly constant as I'd hoped. This opening two-parter brings the debut of a new villain and, surprisingly, a change to the status quo.
As you may have seen, I wrote an entry the other day about why Sarah Jane Adventures isn't just for kids, and you should all give it a chance. So I was a bit concerned this first episode of the new series would be rubbish and make a liar out of me. Let's see how it went…
Nightmares Loom
The first enemy of the new year, then, is the titular Nightmare Man. He's played by Julian Bleach, aka Doctor Who's most recent Davros in a slightly thinner layer of make-up. I believe he also appeared in Torchwood as yet another character, I don't know if this is some kind of record. Nonetheless, he can certainly pull a scary face.
The kids are all present and correct, and after years of acting, they've grown into their roles and have good chemistry. Likewise Elisabeth Sladen as Sarah Jane herself, one of the most likable lead characters in all of Doctor Who-land. So, in short, I needn't have worried too much, this is a good example of a Sarah Jane Adventures episode.
Spoilers Lurk
I will discuss the ending in vague terms, but if you want to remain pure and unspoilt, you had best go to iPlayer and watch the episode first. And don't forget the second part. Firstly, yes, the resolution of the main story is built on The Power Of Love, which is sometimes the case in this show. Personally I can cope with this; you may find it more annoying.
More notably, they wrote out a main cast member! I quite like all the kids, but I must admit this one is a loss, as he had a different relationship with Sarah Jane to the others. And they wrote out a more minor character at the same time, equally tragic in its own way.
Still, a good episode; they wrung every drop of emotion out of the departing character before sending him on his way. I had no idea this was coming, so am more nervous about the upcoming series than I was before, but I have faith. After all, they've renewed it for a fifth year, they must have something planned. How are you feeling about this episode, and the coming year?
More Sarah Jane Adventures on Dork Adore | Writer Phil Ford talks The Sarah Jane Adventures