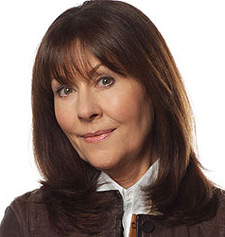 Having unexpectedly made big cast changes in last week's "Nightmare Man", the gang get down to the business of alien-fighting in Sarah Jane Adventures this time. Good job too, as this one features both a new alien and the return of a big nemesis from last year.
Aside from that, there's more science fiction, less hugging, and the return of Rani's parents to a major role. If this episode was any more old school, it would be on your Facebook leaving status updates you don't care about.
Men In Black – Low Budget Edition
The new aliens are a bunch of men in black, with black suits and shades; pleasantly, one of the kids makes a Will Smith joke as soon as he spots them. For those who enjoy spotting obvious budget savings, this must be cheaper than a prosthetic. Not to mention, the other villain is a re-used prosthetic from last year.
Of course, this is a win-win for the makers of the show. We fans love it when old villains return, or when Doctor Who villains pop in, so they save money on new latex masks and we get a nerdy kick. And there is a good expansion of the Veil's body-swapping schtick after last year's debut, too.
Plus the ending of the episode is a little more satisfying than last week, which resorted somewhat to "Why don't we all hug?". So you may not feel as warm inside, but your brain won't resent you as much for liking it.
Mr & Mrs Chandra – The Return
After being largely absent last week, Rani's parents are all over this story. Depending on your mood at the time, they are either light comic relief or so irritating that you'll want to put out your eyeballs.
And it's still unclear whether the existence of aliens is public knowledge in Who-land. That Ocean woman shouldn't have this much trouble getting people to believe her, not when everyone has seen the Daleks.
More excitingly, Luke makes a brief cameo, even if K9 annoyingly doesn't. And, to be honest, almost everything is over-shadowed by the appearance of Matt Smith's Doctor in the 'Next time' trailer. Join me next week for the main event of the series, and in the meantime, watch this episode on iPlayer and let us know what you thought.
More Sarah Jane Adventures on Dork Adore | The Sarah Jane Adventures: It's Not Just For Kids