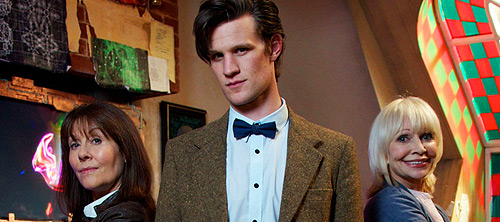 This week, although we're barely halfway through the new series of Sarah Jane Adventures, it is time for the most eagerly awaited, probably highest rated episodes. Obviously it isn't the series finale, rather The One With Doctor Who In.
Yes, Matt Smith stops by this week, and for many, this will be the only time they watch. It's a sad state of affairs; I wrote a post a few weeks ago imploring you all to give Sarah Jane a chance. So, with all this passing trade, did the SJA crew put on a good show?
The Doctor & Mr Davies
Of course, for Doctor Who fans, this is also notable for being scripted by former Who lead writer Russell T. Davies, in his first work on Matt Smith's Doctor. For fans who thought his work tended to focus on characters and big tearful moments at the expense of science-fiction, there is a bit of that here, but it's one of his less mawkish efforts.
Smith's performance is more restrained than we've seen in the past, rather than hurling himself around, babbling. I suppose it is important that he doesn't steal the show from the regulars.
The Dorks & Mrs Jones
Davies also throws in some fanbaiting by having the Doctor claim he has 507 regenerations, rather than the previously stated limit of 12. Since we've had ten of them, I expected that to be somehow nullified, but I hoped they'd use it for a story rather than contradict it in a single line.
Elsewhere, old companion Jo Jones (formerly Grant) returns, along with a tsunami of references to and footage from old Who episodes. Seriously, this might be the most past-humping they've done since Doctor Who came back. But it's still accessible for charlatans like me, who only started watching with Chris Ecclestone.
The Puppets & Student Luke
The aliens are puppet vultures on loan from a lesser kids' show, and there's also a wide shot of a UNIT base that they forgot to convert from a 2D drawing. I thought they'd throw more money at this crossover event. Oh, and Jo has a grandchild called Santiago, who seems like he might return as a Sarah Jane cast member one day.
After all, the guys are still a man down, now that Luke is busy with his amusingly sanitised university experience. Apparently he "went for a burger with the guys", which must be a euphemism for "drank a pint of vodka". I guess he was talking to his mum at the time.
Anyway, it was a fun episode, though more for the little moments than the actual plot. Matt Smith made the most of the big scenes he had, and certainly radiated Doctorial authority. Still, it'll be nice to get back to SJA business as usual next week, without any crossover trappings. Catch up with the story on iPlayer, and let us know your thoughts on this momentous meeting.
More Sarah Jane Adventures on Dork Adore | Sarah Jane Adventures: The Vault Of Secrets – Dork Review