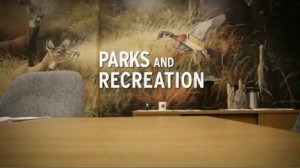 In the first few minutes of Parks and Recreation's opening episode, there is a familiar feeling that makes you think you've seen this style of filming before. And if you're a fan of that other major NBC show, The Office, you will know what I'm talking about. Parks and Rec (as I shall now call it to make it easier on myself) is a single-camera mocumentary, following the exploits of the parks department in Pawnee (a fictional town in Indiana).
With Amy Poehler in the lead as overtly perky deputy director Leslie Knopfe, it feels like this show is in safe hands…
But what's it all about, Alfie? Let us dissect the pilot episode. If you haven't seen it, this is full of spoilers so get thee to iPlayer first, I say!
Knopfe Way Man!
As seems to be the tradition in this kind of series, we cold-open on our main character, Leslie Knopfe (Amy Poehler of Saturday Night Live fame). She is first seen trying to conduct a survey on the satisfaction of the park goers. Unfortunately, she tries this with a little girl who is too busy constructing things out of sand (as one does in a park) to listen to Ms. Knopfe.
Knopfe details to the camera crew how she believes in the power of government to help other people. Angry complaints are just "people caring loudly at me" to her.
Later in the show, she is seen helping local nurse Ann Perkins (erstwhile Karen in The Office, Rashida Jones) whose boyfriend Andy broke both of his legs falling down an abandoned quarry pit. With her support, Knopfe decides to fill in the pit and build a park on the land.
As we're only one episode in, I am keen to see how Leslie Knopfe (I am having paroxysms of joy spelling that name out) evolves as a character. In this introductory round, she seems a bit of a ditz who takes it all in her stride and manages to remain enthusiastic even when she tumbles into the aforementioned quarry pit, bruising her wrist.
More power to her, I say. I hope they let her character blossom because as a lead, Amy Poehler is potent and riddled with potential.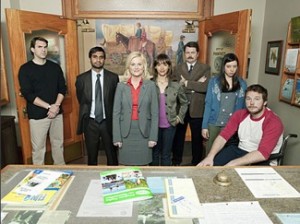 The Origin of Swanson
The supporting cast are structurally solid. Rashida Jones and Chris Pratt play nurse Ann and her slacker musician boyfriend Andy, while Paul Schneider, Aziz Ansari and Aubrey Plaza round off the cozy bunch as planner Mark Brendanawicz, jaded colleague Tom Haverford and super fun happy (read – completely uninterested) intern April Ludgate respectively.
But the overwhelming force in between all of these people is Nick Offerman as Leslie's immediate superior, deadpan libertarian gun lover Ron Swanson. He is underused in this first episode, but I have a feeling that he and his moustache will right that wrong in the upcoming five episodes. Expect episode two's review in a hot minute (well, a couple of days…)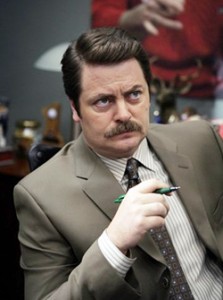 More information on Parks And Recreation on Wikipedia – Check out episode two (The Reporter) of Parks and Recreation on BBC iPlayer