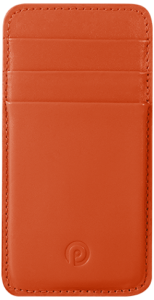 The Patrona iPhone wallet wins for four very good reasons.
First, it's available in a fine assortment of colours and patterns, including orange leather, which matches Dork Adore's logo and is therefore welcome in our hearts
Second, it stores three of your cards so that you can head out for an evening free from the personal clutter a bag naturally encourages. As someone who still resents the day when I finally accepted I had to have a handbag like a proper grown woman, I applaud this.
Third, it is attached to your phone using magnets. As we all know, magnets are made from what can only be described as "magic" and despite the fact that this magic metal has existed on our planet for quite a while now, humanity is still not really over how marvellous it is. And these ones are especially marvellous, offering superior hold and a shiny design.
Fourth, this is a this is a very high spec product. The leather feels luxurious – presumably sourced from the supple inner thighs of a very relaxed mammal. When this is attached to your phone, you feel like you could probably handle anything in life.
Should any of your friends ever burst through the door yelling "There's 90% off everything at John Lewis!" You'll have already cleaned out the wool department and be half way to the Benefit counter.
PATRONA NO NO
Sadly, the Patrona also loses in a number of areas.
First, it's extremely expensive. At £70 it's so expensive, you start to suspect it doesn't want you to buy it because you're simply not good enough for it. You are not a Patrona owner. This is a product for those who think spending upwards of £70 on a card holder that sticks to your iPhone is a mere trifle. This is not for people like me.
Second, if you take the wallet off your phone, you're left with a giant magnet that could disable any of your cards not protected inside the specially patented lining. This means you have the choice of leaving it on or removing the magnet altogether. At £70 I would be leaving the Patrona attached for all eternity in a desperate bid to reduce the cost-per-use so the self-loathing was just a faint whisper in my ear.
Third, I'm not sure what their special patented lining is, but when you're carrying it around, you start to suspect it might be lead. This is a surprisingly heavy bit of leather. In fact, it's so heavy it makes you realise just how light your iPhone is. A week after using it, I'd actually got to quite like having something a bit more meaty in my pocket (am I right, boys?!)
STILL WANT IT
But for all my attempts at critiquing this expensive piece of leather – a piece of leather that requires a giant magnet and an instruction video just so you can store three credit cards in it – I can't help feeling pretty good when I grab it off the counter and walk out of the house (forgetting my keys – they need to add a key attachment).
I feel like an important piece of me is attached to another important piece of me, making me less likely to lose either (or more likely to lose both, but let's not harsh my buzz). I feel like I can conquer the world. I feel a little bit Sloaney.
And I kind of like it.
Patrona iPhone Wallet, from £70 www.patrona.com