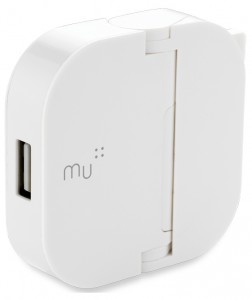 Plugs aren't remotely sexy, are they? No? Well, this one might change your mind.
I don't have a good record with plugs. I either break them, forget to pack them when I'm off on holiday or, worst of all, stand on one in the middle of the night. So it takes a lot for me to get excited about such a functional-yet-irratating item. In fact, the closest I've come to it recently is this Masterplug USB and mains charger (still one of my favourite essential gadgets.)
The MU USB adapter is the brain child of product designer and illustrator Min-Kyu Choi of Made in Mind. I like Min-Kyu Choi. He's quoted on the packaging as saying "I made a list of what could be changed and what couldn't. The second list was surprisingly short." Anyone that looks at how they can make everyday things much better is clearly a Dork at heart.
It's a plug that folds up into the flat disc on the left. The pins fold into the design, so it's as skinny as a MacBook Pro when you fold it up – great for travelling or carrying in your clutch. To use it, all you do is fold back the two sides, twist around the central section and you have three pins, ready to use. At the moment it's mainly useful for smartphones, but other products are in the works for tablets, laptops and more.
The MU is £25 from the MU Website.