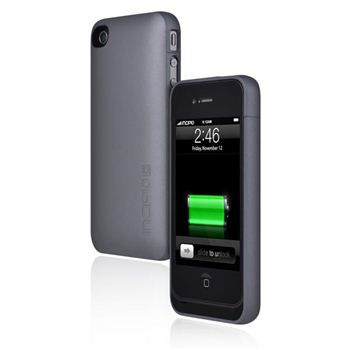 On an average day into London my phone is lucky to last beyond 6pm. Admittedly, this is because I'm terrible about flicking through lots of apps, but why has no one invented a way to charge your phone in the same way you can access wi-fi on the go?
In the meantime there are dozens of portable charging options out there that don't require you lunge for the only seat next to a charge point on the train. I've used several of the plugin styles, but they're a pain to use if you're actually on the go. Which is why the Incipio offGRID™ Pro appeals. 
It looks like a normal iPhone 4/4S case, but with a slightly chunkier bottom. Click your iPhone into the case, and click on the charge button at the base, and it will charge your phone.
Simple, right?
The OffGRID Pro is slim and lightweight. As chargers go, it's also fairly attractive. Thanks to the charge button, you can choose when to charge your phone via the case. The rest of the time it can just work as a standard case.
Or that's what you'd hope anyway.
I'd suggest you don't rely on it as a case. I've been using a CaseMate case for over a year and must drop it off the sofa once a day (you'd think I'd learn, but I'm really that clumsy). I dropped my phone once when using the offGRID Pro and the screen smashed completely.
The smash started from the corner where the case joins with the top section (you have to slide the phone into the case and add a 'cap' to the top to complete the case). Apparently, it shouldn't really be relied on as a case, as the main purpose is to charge, but then why not just stick to a plugin external charger? After all, it is called a case on all the marketing material.
Charging is fairly good. The manufacturers claim it'll will give you an extra charge and a half, but I found it didn't charge my phone up fully. Think of it as a top up to get you through the rest of the day. Like a lot of these chargers, the case needs to be charged up through a USB port, so you'll need to remember to charge it every time you get home.
Overall, if you're after a portable charge, it does the job. If you're even a little clumsy, I'd suggest you stick to one of the other portable chargers.
OffGRID Pro iPhone Case £69.99 from amazon.co.uk
Score: 4/5 for charging, 1/5 for the case.
Have you got any portable charger recommendations?