This week, we've been bowled over by an adorable iPad app, geeked out on Google+, protected our gadgets with some quirky cases, got excited about a certain magical film and created our own infographics.
The Fantastic Flying Books of Mr Morris Lessmore
This is possibly the loveliest app I've ever downloaded on my iPad. It's an interactive ebook based on an award-winning short film, and follows Mr Morris Lessmore as he falls into a world of flying books. If you're a fan of Pixar shorts, you'll adore this. Download it now and you'll have one more thing to distract the kids with when the summer holidays kick in.
Here's a little peek at what it has to offer:
Google+
Half of team Dork are now on Google+, after Rebecca and Wez's excellent post about it last weekend. I'm particularly excited about the option to share content within certain circles, even if it does leave me the paranoia that I'm going to either a) post all my personal information to the wrong people or b) turn schizophrenic.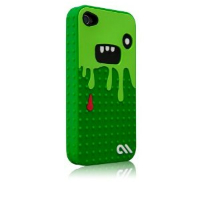 Case Mate
Case Mate sent me some great cases this week for my iPhone and iPad, including this Monsta Case (£12.99, Amazon) for my iPhone. They also sent me a lightweight cover for my iPad (£37.99, Amazon), which doubles up as a stand for watching video/lazy surfing.
Harry Potter
Obviously. The world and their mum are off to see the final Harry Potter movie this weekend. I'm hugely excited about seeing it after reading Anna's Harry Potter and the Deathly Hallows Part 2 – Dork Review. This has also led to us testing out the Kymera Magic Wand, which we'll be reviewing for the blog next week.
Making our own Infographics
This week, we've wasted a fair amount of time making our own infographics. Visual.ly has the tools to help you make your own infographic based on your Twitter usage, and pit it against another user if you wish. In the future, you should be able to make your own infographics quite easily using the system too.
Here's the Dork Adore infographic:

What things have you loved this week?