It's not often that my major areas of interest cross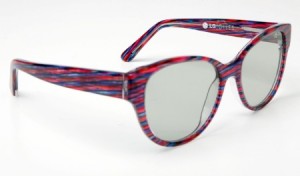 over, but Giles Deacon has brought fashion and high-tech together with this pair of 3D glasses from LG (available now from Selfridges).
The fuzzy pattern on the frame was inspired by TV interference. The shades allow you to watch 3D movies at the cinema or in your own home — as long as you have a 3D TV, of course.
Deacon used the launch to talk about his excitement at the chance of experimenting with technology and also to say that he'd love to see a 3D version of Hitchcock's The Birds. I can practically hear the horrified gasps of film fans across the country.
As much as I welcome tech and fashion collaborations, I can't help but feel these have a pretty limited market. I'm not sure I'd spend £29.99 on a pair of glasses to wear indoors. Of course, you could wear them to the cinema rather than take their rather less stylish options, but you'd have to either be a dedicated cinephile or fashion fanatic to want your own pair.
Giles Deacon LG 3D glasses are available from Selfridges.
Would you splash out on fashion 3D specs?