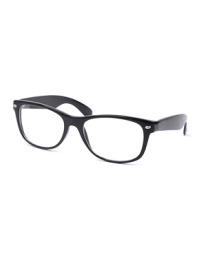 What do Fearne Cotton, Nicole Kidman, and designer Erdem Moralioglu have in common? They all have an appreciation for the 'geek chic' glasses trend, in particular the too-cool-for-school black rimmed variety.
The glasses, reminiscent of the style Buddy Holly became famous for, are the new accessory everyone wants to get that hands on.
Having perfect 20/20 vision doesn't mean you're exempt from this particular trend; there are plenty of clear lens glasses if you're desperate to fit in with the geek squad, and some kitsch interpretations on other accessories.
They're a great unisex item too. The 50's glasses on the right are actually from the men's section of ASOS.com for £10.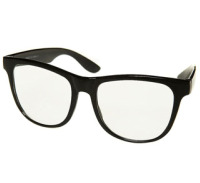 These Clean lens glasses from Topshop are £15 and have the large frames currently favoured by the younger generation of celebrities.
They've got a bit of an 80's vibe about them, so I'd probably pair them with some frosted lipstick for real geek chic. Best leave the scrunchie in the bin though.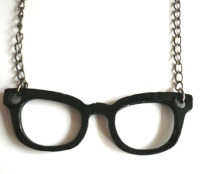 This black geek chic glasses necklace is from jewellery designer Love Hearts and Crosses, and also comes in a bronze version for secretary chic.
It's £12 and would add a quirky edge to an otherwise casual outfit.