Punky Pins is a handmade  jewellery website specialising in unusual and kitsch designs. The collections range from vintage style, to pop art, to nautical and just about everything in-between.
My favourite item from the site would have to be this Twitter necklace: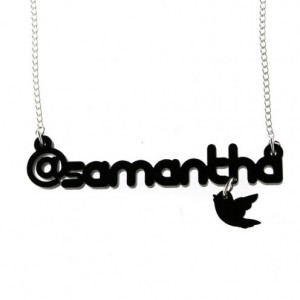 Anybody who knows me will know that I am constantly updating and checking my Twitter account, and now with this necklace strangers will know that about me too!
It comes in three colours, black, pink and blue and costs £14.00. The username can consist of up to nine characters in lower case only.
I really think that this is a great twist on more traditional name necklaces made fashionable by Sex and the City's lead character Carrie Bradshaw.
They are fun, geeky and – for a person like me that is hopelessly addicted to Twitter – the perfect dorky neck attire. In fact, here is the one I had made for myself: