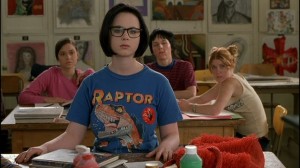 Enid Coleslaw is the ultimate comic book anti-heroine and one that's become something of a poster girl for geek chic with indie cred.
In the Daria Morgendorffer mold, she's a witty, intelligent and cynical commentator on the world around her. Brought to life by Thora Birch in the 2001 adaptation, check after the jump for a guide to stealing her own personal brand of outsider chic (green hair optional).
Skinny jeans £38 Miss Selfridge, Underground brothel creepers £85 Asos, leather jacket £165 Topshop, t-shirt £40 House of Fraser, Mai Tai glasses £69 Glasses Direct, sketch pad £8.66 Amazon.co.uk, Tropical Green hairdye £5 Stargazer
What do you think? If there's a geeky icon you'd like to see us cover let us know in the comments, or by tweeting @dorkadore!