Mouldable orthopaedic soles for my shoes that can be customised at home are definitely my idea of a good time. I suffer from back pain at the best of times (who doesn't?) so I have always meant to go and stump up the cash for some proper shoe inserts to help my posture.
The Sole custom footbeds are a more affordable alternative. You stick them in the oven, leave for a few minutes, pop them in your shoes and stand on them for a couple of minutes to get the perfect fit.
I was excited to try these because I have issues with hypermobility in all my joints (exacerbated by the fact that I am currently filled with the relaxin hormone thanks to pregnancy) and correct posture and support are useful for getting me through the day with all ligaments intact. But I was also excited to have new inserts for a pair of much-loved, leather lace-ups whose once foam-based inserts were but a distant memory.
Fixing holes with Sugru
I've already fixed a hole in these shoes using Sugru, so hacking them further with a new insert seemed like a logical next step (so to speak). These were expensive shoes; I intend to get my money's worth.
I absolutely love the Sole Custom Footbeds. I tried the Thin Casual (£38), which are for smarter shoes, and also had the Softec Response (£38), which I put into a pair of flat-footed Gola trainers, turning them from slouchy pumps into a pair of arch-friendly, super-supportive, old faithfuls.
In both cases, I was left with shoes that feel supportive, rejuvenated and much more comfortable. Because I was able to remove the original inserts from both, the shoes still fitted well, with the added benefit of proper arch support.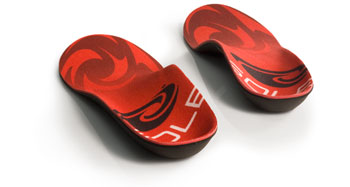 If I were to complain about anything it would be the width of them. Both pairs I tried the soles in were narrower than the sole in certain places. You can trim the ends to fit, but you're not supposed to trim anything else. The sides (especially on the Gola trainers) ended up being far wider than I needed, and pushed out my shoes. There are a lot of women asking for thinner options for ladies' shoes on the Sole Store, so hopefully someone in head office will take heed at some point.
DIY Orthopaedic shoes
The fact that I have taken two pairs of much-worn and loved shoes and hacked them to be more comfortable and supportive is immensely satisfying. They're quite expensive, but they can be moved from one shoe to another (so long as the fit is similar if you've trimmed them) and they are a LOT more comfortable than the footbeds you get with most shoes. They are also significantly cheaper than customised orthopaedic insoles.