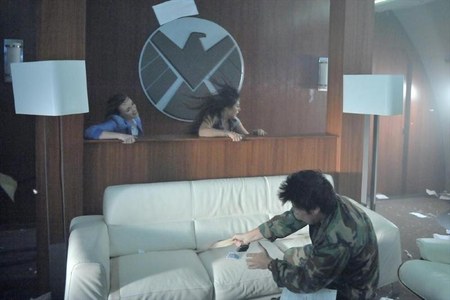 Last week, the Agents of S.H.I.E.L.D were dutifully introduced to the audience – along with the reintroduction of one Agent Phil Coulson, who is definitely still alive. Or is he? This week, the Agents, along with mysterious new recruit Skye, head to Peru to investigate the answer to the question posed at the end of the last episode.
So, what exactly is an 0-8-4? Spoilers below, so catch up on 4oD if you missed this episode.
Mmm… that's good McGuffin
We see that Skye has taken up Coulson's offer of a position as consultant, much to the worry of Agents Ward and May. Nevertheless, Skye schleps the contents of her van into the Wonder Jet (which is what I'm calling it from now on) and is shown around by Fitz and Simmons. Coulson explains that an 0-8-4 is SHIELD jargon for "an object of unknown origin", casually mentioning that the last one they encountered was "a hammer".
Personally, I can't wait until Skye meets the owner of that hammer along with his mates.
The Wonder Jet… jets off to Peru, the location of our 0-8-4. It happens to be located in the centre of a massive Incan temple, in the middle of an archaeological site. The head archaeologist (who is given no name) shows the Agents the "impossible" object discovered between the pre-Incan artefacts.
While Fitz and Simmons banter away over the possible origins of this objects, Ward and May take patrol outside, quickly sussing out and disarming a group of soldiers. Their commander turns out to be an old friend of Coulson, named Camilla Reyes. She appears to be well-intentioned, but as the team discovers that the object is fuelled by Tesseract technology (making it more deadly than a nuclear weapon), Camilla turns a bit sour on her old friend and his team…
Team building, SHIELD style
The second outing for our Agents stands on firmer feet than last week's opener, which is only logical. We get thrown the occasional bite of back story (May's past as The Cavalry is something I'd love to hear more about) and the usual Marvel Universe references are still in place (Tesseract technology, the HYDRA organization and, of course, a certain Norse god's weapon of choice).
The team also gets a pretty spectacular impromptu team building session in: while being held in the cargo bay by Reyes' soldiers, their combined thinking helps them come up with an ingenious (but slightly destructive) escape plan.
Outside of the hostage situation, Ward starts slowly defrosting towards Skye, May reveals bits of her past and Fitz and Simmons continue the frantic banter. Skye, although less grating than she was last week, appears to still be somewhat of an unknown quantity. At the end of the episode, while the rest of the team celebrates, she gets a text message from a member of The Rising Tide, and confirms her allegiance to them. So, if Skye will eventually prove a danger to the team remains to be seen.
The SHIELD and the Fury
Reyes feels a bit like the weak link in this one, which is a shame. As an antagonist, she doesn't get to do an awful lot, apart from flitting between seducing and menacingly saying stuff in Coulson's general direction.
Luckily, Coulson himself is still good value. In this episode, we get a few more tantalizing clues towards the answer to the question of why he's still alive. But only a few.
Making up for this frustrating lack of information is the appearance of SHIELD director Nick Fury (yes, actual Samuel L. Jackson, as on fire as usual), who breezes in at the end of the episode to tell Coulson off for putting a whopping great hole in his new plane. Oh, and to give him a warning about Skye. But mostly about the plane.
Next week? Your guess is as good as mine.
More Agents of SHIELD on Dork Adore | Agents of SHIELD – Pilot – Dork Review