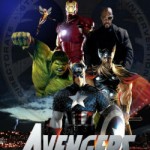 If you were wondering just what Black Widow's powers are, this clip should clear that up for you: Scarlett Johansson's powers are "seriously kicking arse whilst tied to a chair". I suspect she may extend that skill to just general arse-kicking whilst tied to anything, in case you're concerned her powers are a bit niche.
The Avengers movie is on its way, people! We are getting pretty excited about it, in case you hadn't guessed.
This, despite the fact that the film has been lumbered with the terrible official title of "Marvel Avengers Assemble" as though it's a film about a group of yawning super heroes gathering in a chilly school hall to shout "present" when someone calls their name.
Geek hero, Joss Whedon's paw prints are clearly all over it, as this clip of a Buffy-esque Black Widow shows.
"I'm going to have to put you on hold…"
Watch the official Avengers movie trailer (again).
Source: SFX