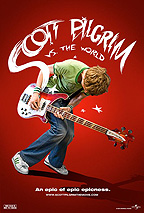 2012 is going to prove a massive year for the comic book film adaptation, with Zack Snyder rebooting Superman with The Man of Steel, Marc Webb taking on The Amazing Spider-man, The Avengers getting their first outing courtesy of Joss Whedon, and of course, there's the Batman saga coming to an end with Christopher Nolan's The Dark Knight Rises.
So, in honour of this, I've put together a top 5 list of best comic book movies around. Agree with me? Of course you don't…

5. Scott Pilgrim vs. The World
Scott Pilgrim vs. The World wasn't the financial success it was expected to be, yet it has already gained somewhat of a cult following.
The graphic novels themselves centred on video games, and are set in an arcade-game style world. Whilst making a comic book movie, director Edgar Wright proved that you can make a video game movie (something the Resident Evil makers could do with learning) capturing stunning graphics along with SNES-like imagery.
And Mary Elizabeth Winstead in her underwear is never a bad shout.
4. Superman II
"Kneel Before Zod!"
A classic. And better than the original, right? Well maybe, maybe not. Superman II makes it onto my list before it predecessor, purely because of the legacy of the film.
General Zod wasn't that much of a big character in the novels before this film, and then he went global. He appeared as the main antagonist in Smallville's 9th season and is to appear in Zack Snyder's reboot; something the General owes to Superman II.
3. Sin City
A fan favourite that still doesn't get as much recognition as it should, Sin City is the one comic book movie of recent times that 100% sticks to the source material, with groundbreaking photography and direction.
It should also be credited for paving the way for the darker comic book adaptation that took the late Noughties by storm, e.g. Batman Begins, Watchmen and 300.
2. Watchmen
Zack Snyder's 2009 film divides opinion. You either love Watchmen or you hate it.
Based on arguably the greatest graphic novel of all time, Snyder had a huge job on his hands. Taking the dark realism that proved successful for comic book movie adaptations of the time and mixing it with the fantasy that is clear in all graphic novels, but lacking in the likes of Batman Begins and The Dark Knight, Snyder gave us an action film that hooked us through story and character development rather than action itself.
NB: If you enjoyed Watchmen, then take a look at the four-hour extended director's cut. Worth it.
1. The Dark Knight
An obvious choice? Yes. A justified choice? Hell yes.
The Dark Knight and Batman Begins before it (I would have Begins on this list, but it seems unfair to have both…) revolutionised the comic book movie industry.
Not only does The Dark Knight adorn the top of most comic book film lists, but it comes on top of many regular film lists.
It offers a story and plot worthy of any truly great crime film, such as Heat and Casino, as well as the vision of a director truly at the top of his game. Plus, there's an ensemble cast, with each actor proving his or her worth, whilst Heath Ledger as The Joker giving an Academy Award winning performance that is arguably the most iconic of the past 10 years.
But the best part? It sticks to the source material. Heavily based on The Killing Joker and The Long Halloween graphic novels, The Dark Knight, whilst visualised differently than in the original novels, takes plot and characters devices straight from them, e.g. The Batman's reluctance to kill and The Joker's confusion about his own past.
Honourable mentions: Spider-man, X2, Teenage Mutant Ninja Turtles & Blade.
So, do you agree with my list? Have another adaptation to add? Let me know in the comments!