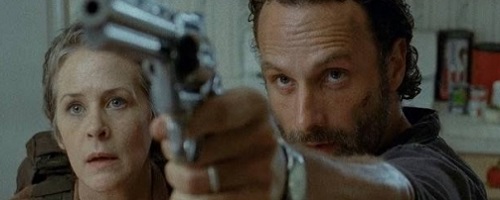 Death takes a holiday this week, as the merry miserable of The Walking Dead head out on a couple of supply runs. Well, one of them started last week, when Daryl and Michonne took alcoholic Bob and depressed Tyreese on a mission for medication.
And now Rick and Carol go out too, looking for food and dealing with last week's revelation: Carol is becoming a Dexter-like "I kill people for good reasons" avenger. Considering Rick did the exact same thing several times last season, surely they can come to some accord? Spoilers follow.
Carol – A History
Even though I've been enjoying the disease storyline for the most part, it was probably time we took a break from the claustrophobic prison setting. That plot looks like it has a few weeks more to run, and viewers could grow weary of sick people and vomiting.
So we're out on the road, and the writers get some quite good character work in. Rick and Carol are two of only a few remaining characters from the very start (I think it's just them, Daryl and Glen) so they have proper long history to draw on as they get nostalgic and try to process where they are now and how the hell they got there.
This works well for Carol especially, as her sudden homicidal tendencies were a little out of the blue, but framing it with her history and newfound toughness, this episode makes it seem just about plausible. Over the course of seasons three and four, Carol has gone from a background nobody to a major part of the ensemble and I'll be sorry if this really is the end for her (but I don't think it is – this show doesn't let people live unless it has to).
Bob Forks Everything Up
In the other fork, there isn't anything quite as riveting, but the other characters also struggle with the past, especially Bob (unsuccessfully) and Michonne/Tyreese who finally begin to move past their recent traumas. It'd be good to see more focus on Tyreese, as Chad L. Coleman is a great actor and until this storyline he'd not had much to do.
Also back in the spotlight is Daryl – he's taken a backseat for much of season four, after almost becoming co-lead of the whole series last year, but good to have a sharp reminder of why we all love him. I assume he'll get some big scenes in the near future when he finds out what happened with Carol, too – looking forward to them.
In short – yeah, I think I'm ready to say The Walking Dead is on another one of its good streaks. The storyline is interesting and moving forward at a decent clip, the characters are emoting in a non-whiny way, the fun zombie gore remains intact. Stay frosty guys, it could all go wrong again at any moment, but for now, I'm enjoying this show a lot. Good times.
More The Walking Dead on Dork Adore | The Walking Dead: Isolation – Dork Review