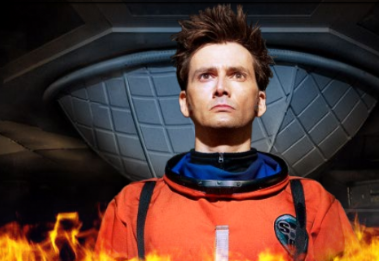 Last night a fair proportion of the internet sat down to watch the start of David Tennant's last hurrah as a Time Lord in Doctor Who: The Waters of Mars. The episode featured alien baddies "The Flood", a race of water-based beings who play havoc with your electrics and create all kinds of damp-proofing problems.
Unsurprisingly, Lindsay Duncan was excellent as spoilsport boss, Captain Adelaide Brooke and David Tennant got to flex his acting muscles when the Doctor had a little power mad turn. Meanwhile, the slack-jawed bed-wetters out in the greenhouse had me regularly reaching for my chapstick, while — I've no doubt — the nation's youth were busy reaching for the sofa cushions.
So, what did the rest of internet think of the watery episode? Good clean fun or a bit of a damp squib?
For large chunks of this episode, the Doctor is a very still and haunted man (spitting out lines you never thought you'd ever hear the Doctor say), and Tennant for me absolutely nailed it… he utterly owns the role, and it's really going to miss him.

Memo to Matt Smith: you've got one hell of a job on your hands.
"The Waters of Mars" is one of the best episodes in Who for a long time, certainly not since the June 2008 episode "Midnight" have I enjoyed Doctor Who as much as this.
Make no mistake, this is excellent, excellent Doctor Who, even if at times it just doesn't feel like – well – Doctor Who. In the final sequences, our hero has never seemed more alien, or out of control. A mad dog Time Lord, fast going insane with the knowledge of his own imminent death.
The tug of war in [the] emotional scenes allows for some great performing on Tennant's part and this is especially true when The Doctor does something very uncharacteristic… The success of this episode is also due, in no small part, to the brilliant casting of Lindsay Duncan (Rome) as Captain Adelaide Brooke.
Tell us what you thought! We want to know!