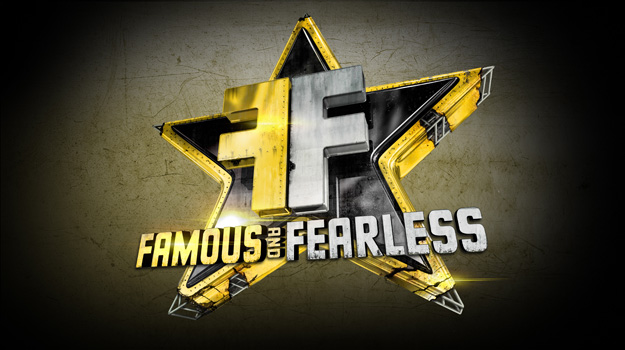 When Famous and Fearless – the new show that brought Chris Evans back to live television on Channel 4 – first aired last Sunday, Twitter was abuzz with how slow it was, bemoaning its terrible 'action to filler' ratio. And I completely agreed, and yet somehow I ended up watching right until the final…
…and, actually, I'm quite glad.
It really did get off to a pretty dreadful start, but as I caught episodes over the course of the week, it was interesting to see the show evolve in real time. The producers must have been keeping a close eye on the plentiful feedback that Twitter was offering up, as the number of live events — demolition derbies, mini-moto races, and a segway relay that ended with the contestants just running  around the track — was radically increased, and even the countdown was reduced from 10 to 5 in the name of speeding things up a bit.
Little narratives also emerged, like Jenny Frost's genuine fearlessness, or the audience getting behind the rather unlucky Rufus Hound, which all meant that the programme ended up being more than the sum of its parts. Hardly a masterpiece, but lots of fun, and a world away from the snooze-fest it started out as.
Magic telly from Penn, Teller and Brown
Well, you wait ages for a primetime show about magic to come along, and suddenly three arrive at once. Last week, the BBC kicked things off with the distinctly underwhelming The Magicians, and while the acts themselves were literally world-class, the format — obsessed with (minor) celebrity and competition — did these impressive performers no favours whatsoever. Luckily, ITV and Channel 4 did much better; unluckily, their offerings were just one-offs.
Still, we'll work with what we're given. ITV's Penn and Teller: Fool Us, presented by the newly bearded Jonathan Ross, had a neat premise: magic acts had the chance to perform their signature skit in front of Penn and Teller, and if they couldn't work out how the trick was done, they earned the right to open for the superstar double-act in Las Vegas. The obvious hurdle was how Penn and Teller could demonstrate that they understood how the trick was performed without giving the game away, but thanks to a combination of drawing little diagrams and using cryptic phrases like 'you rang in a cooler', the duo overcame it rather elegantly. They were witty, generous judges, Ross was excitable, and the magicians were stunning: all in all, pretty darn excellent.
And on Saturday, Channel 4 rightly celebrated the fact that the wonderful Derren Brown has been on our screens for 10 years (on and off) with a new documentary and two full shows. Behind The Mischief was always going to be a curious beast — how do you make a truthful documentary about someone whose entire act relies on misdirection, showmanship and illusion?
Ultimately, you couldn't believe much of what Brown said about the mechanics behind his shows and tricks, but there was the interesting revelation that the much maligned reveal show after his lottery 'prediction' was meant to end with the twist that he'd actually fixed the draw… Plus, it was genuinely interesting to find out a little about Brown's background, and while this isn't perhaps surprising given the programme was made by his best friend, he did come out of it looking like a thoroughly smart, funny and likeable chap.
Next week, comedy gets its very own supergroup when Tamsin Grieg, Stephen Mangan and Matt le Blanc unite for BBC Two's Episodes. I'm a little too excited…