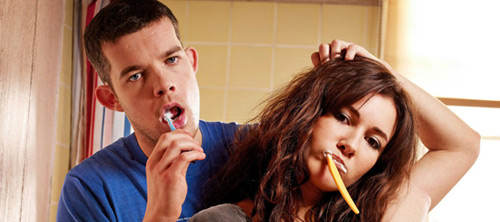 If you don't study Twitter or TV guides diligently, the BBC's Him & Her might have passed you by. And even if you did notice it, you may have moved on quickly after realising it's a sitcom about twenty-somethings in a flat, on BBC Three.
But I've watched the four episodes to date, and thought I'd take a stab at convincing you otherwise. After all, it stars Russell Tovey, of Being Human and Doctor Who fame, and more importantly, it's really very good.
An Oddly Convincing Relationship
The premise centres around Tovey and Sarah Solemani as couple Steve and Becky, who are unemployed, living on benefits and enjoying a carefree life of sex and Inspector Morse DVDs. At least, until their supporting cast of friends and family turn up to complicate matters. Yes, it could easily be boring, but there are plenty of laughs in the script, mostly combined with a cringe of recognition.
A lot of its success hinges on Tovey and Solemani, who form one of the most convincing couples I've seen on TV in a while. Few screen pairs successfully thread this needle, instead veering into either nauseating sap or a level of hatred that makes you wonder why they bother, but I believed in these two as a relationship. And in a show like this, that's half the battle.
A Uniquely Uplifting Experience
A pedant could point out this is a very typical late-2000s sitcom, with no laugh track and jokes which hinge on a cringe (see Peep Show, The Inbetweeners, The Office, The Thick Of It), not to mention a single claustrophobic set (see The Royle Family, Ideal, Grandma's House). But I really enjoyed it, and refuse to let that kind of pedantry taint my fun.
Because despite the squalidness of much of the content, I found this show curiously uplifting. One point about the sitcoms I mentioned above is that they are fairly cynical, or outright negative, about their subject matter. Him & Her, for once, sent me away feeling both amused and genuinely happy.
Should you be inspired to check it out, the whole series can be viewed on the  BBC iPlayer for another few weeks.
And then tell us what you thought below!