As you may be aware, long-running medical monstrosity House is finishing up tonight on Sky One, and even though it might have passed its best, Hugh Laurie limping around barking terse one-liners is always watchable. So, what can we look for in the ending?
And, if you're suffering withdrawal once it's gone, is the new House-based Facebook game actually… good?
Everybody Dies
For once, the above is not one of my own terrible puns, but the title of the House series finale. And a major character has got a terminal illness, so will the writers have the balls to chop anyone? Or everyone? At the very least, could they knock off one of the disposable assistants to teach House some important lesson?
Yes, House used up its real dramatic tricks a year or two back, after it became apparent the writers weren't willing to make lasting changes, no matter how hard they teased. But it's the end now, the one time they don't have to worry about resetting everything next season. So, nuclear explosion?
Critical Cases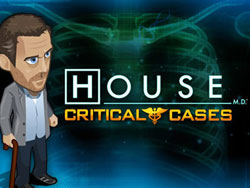 And once it's all over, if not seeing Doctor House and chums on a regular basis is enough to make you turn to drugs, the new Facebook game House: Critical Cases is surprisingly playable. I report this after spending the best part of two days playing it in the name of, um, serious journalistic integrity and stuff.
Yes, it features the usual exploitative attempts to make you pester your friends or give them money to get upgrades quicker, but at least whilst I was waiting for energy levels to restore manually, I could do some actual work. I'm only writing this blog post because my patient's heart has stopped and I can't resuscitate him for five minutes.
So, yes, give the Facebook game a shot, and while you're waiting for things to refill, let us know below if you're looking forward to the House finale. What are you hoping for? Or did you give up on that show years ago?