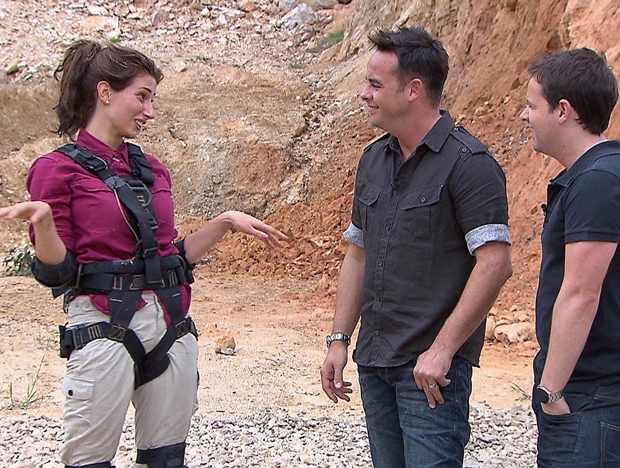 The X Factor, Strictly Come Dancing and The Apprentice – I watch them so that you don't have to. Oh, who am I kidding, I watch them because I like them (and Twitter would be a no-go area every evening if I didn't, and I can't be having that). And now I'm A Celebrity Get Me Out Of Here joins the fray, and I'm hooked already.
I think this is a genuinely good series actually, after a couple that I've been deeply uninterested in. They've used the typical mix of glamour models, mature ladies, random rappers and early nineties indie-dance stars, but somehow they've got it just right this time.
The stand-out performers — for very different reasons — in this first week have been Gillian McKeith and Shaun Ryder. It's nice when celebrities dispel the myths that surround them, but you know what, it's even more fun when our preconceptions are completely justified. So Gillian genuinely *is* whiny, annoying and completely self-absorbed! So Shaun genuinely *is* funny, sweary and tough-as-old-boots! Their bush-tucker trial — which was hilarious — involved eating worms, bull tongue and kangaroo penis, or at least it did for Shaun. Gillian's vegan, though, let's face it, she's scared of her own shadow, so moral objection probably wasn't the only reason she didn't clear her plate.
Never Forget (to donate. What?)
Ah, do you see what I did there? A full-strength Take That were on Friday's Children In Need telethon, but I cleverly used the title of their big hit to prompt you to donate. Oh look, I've done it again.
Donated? Good. I can now, with a clear conscience say that this year's wasn't that good actually. I'm all about event TV (if it's blanket coverage, I'm there) but this wasn't a classic year. I mean everything was in its place — the dancing newsreaders, the plethora of boybands, the heartbreaking VTs — but there was nothing special, which is what you really want from these nights. No, Dragons' Den meets Come Dine With Me doesn't count. Still, a bit of thought was at least put into the Eastenders/Corrie mash-up and hey, it's all for charidee.
Back of the net!
While BBC Two's The Trip gets better and better every week (the 'Holbeck Ghyll-as-aging-actor' riff had me in stitches last Monday) the show's 'tortured genius' star Steve Coogan is also making a weekly appearance on none other than the prestigious Fosters Funny website.
I'm being facetious of course — any new Alan Partridge is a thing to cherish — and the three mini-episodes of Mid Morning Matters released so far have proved that once again. Coogan has great rapport with the excellent Tim Key as Partridge's hipper, but not all that competent Sidekick Simon, and the writing has been of the old standard.  Of course he would invite a Who Do You Think You Are? researcher in to delve into his own genealogical past, and of course the findings would be interminably dull. Genuinely brilliant stuff.
Just enough time before I go (pretending I'm writing this against the clock gives the column an extra frisson, I think) to say how ace the superlative stand-up David O'Doherty was as host on Never Mind The Buzzcocks, and that I will save Chekhov Shorts for next week, when Britain's coolest comedy couple Julian Barratt and Julia Davis team up for The Bear.