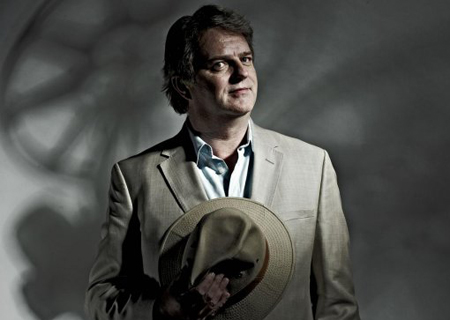 The "one man investigates" template for television has been much in evidence this week, with the quietly effective Louis Theroux and knowledgeable enthusiast Paul Merton both looking into fascinating – though very, very different – subjects that intrigue them.
Reel Hollywood
We start with Paul Merton, then, who these days supplements his Have I Got News For You gig – which I think we can be fairly certain by now is a job for life –  with documentaries. He's travelled around the world for Channel 5 (his take on China was particularly excellent), but here he's discussing a subject that's close to his heart – early cinema.
Merton is a real advocate of those first filmmakers, and particular the silent comedians who used this new exciting medium to such great effect, and so he here paints them as true pioneers. Not just in terms of them breaking new ground in entertainment, but literally breaking new ground in Hollywood – these guys built a city and an entire industry around what was originally a tiny village in LA.
It's quite odd to see Merton put on his serious face for this documentary, but for the most part he does play this straight, and why not – he knows his stuff and has a neat way of analysing comedy without "killing the frog" as the old E.B. White quote goes. He's also happy to call things as they are: "D.W. Griffiths's Birth of a Nation is a racist film based on a racist book", he says, and promptly goes on to demonstrate that the supposed power of the film is based more on Wagner's Ride of the Valkyries soundtracking it than any extraordinary talent on Griffiths's part.
As you'd expect there's some brilliant footage here too, from the astonishingly grandiose Italian films with which the likes of Griffiths were striving to compete (the First World War gave the US time to catch up) to pre-Tramp character Charlie Chaplin.
Merton's Birth of Hollywood is, in short, something of a delight, and you can catch the next episode on BBC Two, Friday 9pm.
"That's the code!"
Feeble excuses like "that's the code!" are heard throughout Louis Theroux's look at Miami's 'Mega Jail', a halfway house for detainees awaiting trial. When a cell-mate gets beaten up because they're a snitch, that's the code, and when a prisoner steals off his neighbour, that's just survival of the fittest.
The strength of this documentary is that mild-mannered Theroux is the antithesis of this way of thinking – a way of thinking, by the way, that many of the inmates say has been thrust upon them due to being locked up without trail for up to seven years. When one prisoner states matter-of-factly that "when someone disrespects you, you assault them, right?", Theroux's look of astonishment is worth thousands of words. "Me? No." The inmate is just as bewildered at the response. "That was the way I was brought up."
And of course for many of the inmates here that's entirely true – the cycle of violence, drug-abuse, gang culture and reprisals is tough to break.
We also meet a group of juvenile criminals who are undertaking a ridiculous military-style boot camp in the hope of being released and avoiding, in many cases, a near-lifetime in prison. The boys become disciplined for sure, but we're left wondering whether any real change is taking place here. When Theroux interviews the star pupil, he describes it all as 'comedy' — he knows the captains he's saluting are playing a role, and he's more than happy to play along.
When you see Theroux in the cells with these men, many accused of murder, you once again just have to applaud him — mild-mannered he may be, but my word he is fearless.