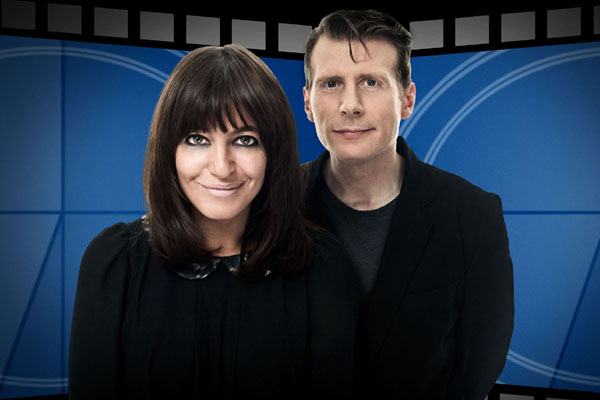 After years of the "one man staring a bit weirdly down the camera" format for Film WhateverYearItIs, the BBC have taken the plunge and given the review show a proper overhaul of Genius proportions (the shake-up of this show has had rather more press coverage, though, for some reason). So with Claudia at the helm and – shock – more than one person's opinion being aired, how did it fare?
The announcement of Claudia Winkleman as the new anchor raised some sceptical eyebrows before we even got into the fact that Film 2010 was going to be live, and much more of a Culture Show, Newsnight Review, debate type programme. But for me, the real novelty factor lay in the fact that Claude — whom I generally like very much, by the way, and especially here where she's not playing dumb, which she has a tendency towards —  would be joined by my old colleague Danny Leigh.
As he says in his rather brilliant post over at the BBC TV Blog, he is completely new to telly, save a couple of talking head appearances here and there, but you wouldn't know it from Wednesday's first episode — he was properly assured and confident, or at least appeared so on the surface, and he jolly well knows his cinema.
His reviews with Claudia were great, but I was less convinced by the live outside broadcast element, this week coming from the launch of the London Film Festival – all a bit awkward and superfluous really.
Autumnwatch not superfluous
Being broadcast live is far from superfluous when it comes to Autumnwatch, however [smooth link from me, there] — indeed, it's pretty much the show's USP among nature programming. Let's cut to a burrowing badger here, a swooping sparrowhawk there: not quite as fun as Springwatch, obviously, when you see chicks hatch and fledge, but it's still a rather comforting way to spend a cold October evening.
As predicted, though, this series genuinely has suffered from a lack of Simon King. His enthusiasm and knowledge is a thing of real televisual beauty, and the floppy-haired Martin Hughes-Games is no replacement. Still, Kate Humble is nothing if not professional, and while I'm sure Chris Packham annoys the hell out of some people, I have to admit I kinda like the fact that he revels in his nerdiness. I haven't noticed him trying to slip in any indie pop culture references this time though; am I missing something?
Cumbersome hashtag for Cumberbatch
Have I Got News For You returned this week, and the Beeb were adamant that *their* preferred hashtag – #BBCHIGNY, rather than the less cumbersome #HIGNFY – should be used, desperately flashing it up at the start of the show. To be fair to them, it did seem to have the desired effect, among my followees and me at least.
No big format change here of course, but one little tweak did make me smile — where once Obama scored a basket (I had to ask Twitter how to phrase that; you'd never know I like to think of myself as a sports fan) in the opening credits, the basketball now hits the rim and limply bounces away. SATIRE.
It lives and dies each week by the quality of the panellists and guest host, and they hit a little goldmine in their first week back with the wonderful Jon Richardson, and host Benedict Cumberbatch. Natural and quick-witted, he was utterly brilliant, and, yes, the fact that he's also pretty darn attractive didn't hurt either.
Now, this has been a pretty BBC-heavy blog (about as BBC-heavy you can get, seeing as though all the programmes mentioned are on the BBC) but I shall pretend that it was all planned, and segue neatly into a new video from the fabulous Mitch Benn, "I'm Proud of the BBC," in which he lovingly namechecks some of Auntie's finest hours and half-hours…
Next week, the wondrous odd couple of Phil Jupitus and Noel Fielding return with a new series of Buzzcocks, we take a look at Is Seeing Believing? and WWBW acknowledges the existence of The X Factor.