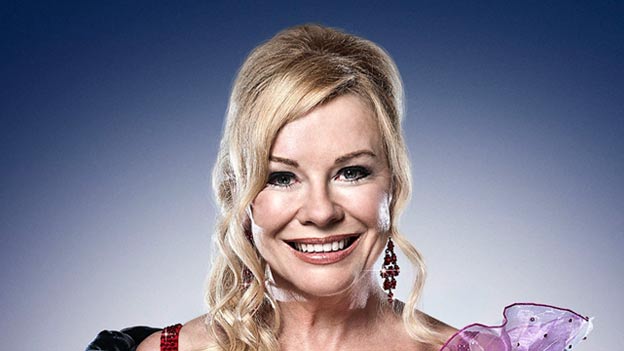 Praise be – we've got a hashtag on our hands. Yes, my mission to get everyone calling this new column WWBW (I've forgotten quite why; ego-centricism, I'd imagine)  has reached Twitter, so if you see anything on the tellybox that you think is worthy of a line or two here, just stick #WWBW onto your Tweets and I'll take a look. But for now, onto the matters at hand – a couple of BBC juggernauts, a fangirl moment and a confusing panel show.
Last Friday, we finally got round to the first Strictly Come Dancing live show, and there have been a fair few changes  to our beloved format.
Apparently heavily influenced by the American version, the opening credits are now horrifically cheesy, the contestants sprint up some stairs after dancing rather than heading backstage, and the number of dances involving props was worryingly high (Matt Baker and Paul Daniels, we're looking at you). Why couldn't they have brought over Dancing With The Stars host Tom Bergeron, too? He's genuinely excellent, whereas Bruce… well I know he has his supporters, I just haven't actually met any.
Still, it was a promising start to the series – Matt and Pamela Stevenson were excellent, and we got the controversy in nice and early with Paul Daniels' misconstrued-but-actually-innocent reference to Craig's involvement with British Sausage Week. Roll on Week 2.
The Apprentice
Meanwhile, it's a new series of The Apprentice and while it may look and feel exactly the same as the last series, Surallan (which he'll always be, no matter what he says) has a major change up his sleeve: he now sometimes says 'you are fired' instead of 'you're fired'!
Madness.
AND he brought the candidates in for their first meeting with him at midnight. For no reason whatsoever. It's a totally new show, people! There's something familiar about the candidates, however. There are the posh ones that Surallen's definitely going to hate, with names like Raleigh Addington (seriously); the mini-Surallens; and the 80s power-women who say things like "I'm flexible, I'm agile" without a flicker of self-awareness. "Cringeable". Oh, it's the same old silliness, but it's as watchable as ever, and when Surallan pulls up a candidate for slouching in the boardroom, you can't help but love him.
Ask Rhod Gilbert: Still no nearer to an answer
Now, in last week's What We've Been Watching, I bravely stated that by this week's column I would have made my mind up about Ask Rhod Gilbert, the new BBC One show that so pleasingly dove-tails with Dave Gorman's Genius over on Monday nights. This, I now accept, was a little rash, as I'm no nearer working out whether I actually like the show after the second episode.
I *should* like it – Rhod Gilbert is a superb comedian, and anyone who saw him stand in for the departed Simon Amstell on Never Mind The Buzzcocks last series will know that not only is he a very good host, but he particularly comes alive when bickering with his old mate Greg Davies (you know, Mr Gilbert in The Inbetweeners, and a brilliant comic in his own right) who also regularly features on the show.
But it's so confused: there are made-up questions from celebs which are then debated by the panel – Davies, Rhod's flatmate (and great comedian/writer) Lloyd Langford and two guests – and extra facts are thrown in here and there by a completely superfluous 'Authenticator', ie. another guest. There's too much going on, too many elements, and that just means that the regular comics' natural wittiness rarely comes through… perhaps with a Genius-esque format overhaul it could be great, but at the moment, it's just a little odd.
Squeeing
In other news, I had a little squee moment when Jemaine Clement and Bret McKenzie, AKA the wonderful Flight of the Conchords, featured heavily in a new episode of The Simpsons on Thursday – and instantly reached for my well-watched Conchords DVDs. Plus, Downton Abbey improved massively with the introduction of Penelope Wilton and Dan Stevens and, um, I completely failed to watch Phone Shop as trailed last week. Anyone see it?
Next week: Have I Got News For You returns, I witter on about how Autumnwatch is rubbish without Simon King (I'm guessing), and I go all #teamcrawley as we catch up properly with Downton Abbey.